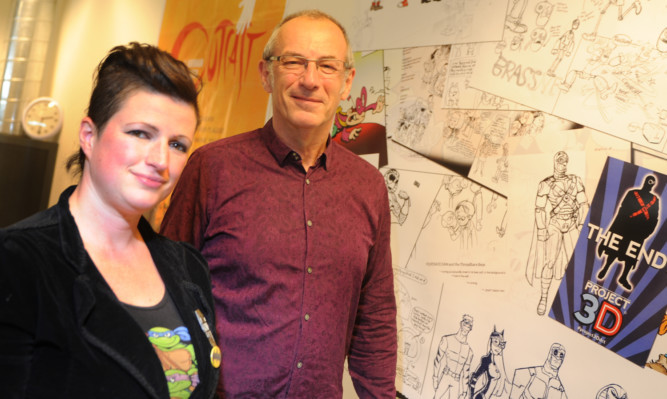 Giants from the comics industry have begun arriving in Dundee to offer their expertise to a new generation of artists and writers.
Dave Gibbons, Tanya Roberts, Norrie Millar and Letty Wilson were among those to join this year's Dundee Literary Festival for a day of workshops and talks for anyone interested in trying their hand at comic production.
The big names also enjoyed a sneak peek at the Dundee Comics Creative Space (DCCS) in the Vision Building in the city's Greenmarket.
The social enterprise and studio project, which has been developed by Dundee University in collaboration with the Rank Foundation and the Dundee Place Partnership Scheme, will open in 2016.
It aims to provide workshops and opportunities to all age groups and to encourage creative learning through comics.
Chris Murray, DCCS operations director and a senior lecturer at the university, said: "We are delighted that prominent figures from the world of comics are once again taking part in the Dundee Literary Festival.
"Having writers and artists of their stature here is inspirational for anyone who wishes to work in comics, and indeed anyone with a love of the genre.
"The point of DCCS is to help young comics enthusiasts develop their skills and nurture the Dave Gibbons' and Cam Kennedy's of tomorrow."
Further comic talks and workshops take place on Friday and Saturday, with details available from literarydundee.co.uk/festival.