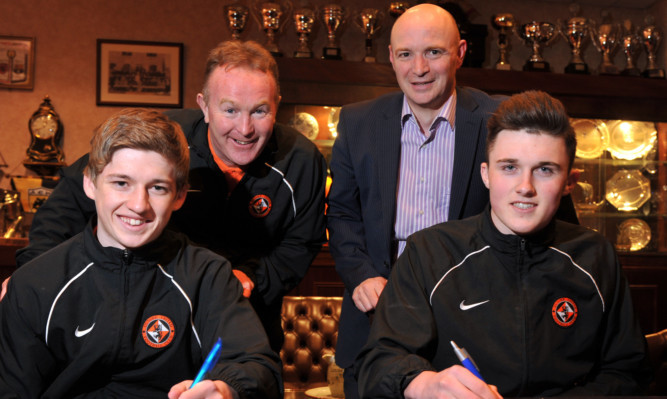 Dundee United youth coach Stevie Campbell has quit the club and broken his silence on the rift between him and the Tannadice side that led to him being suspended by the Premiership strugglers.
Campbell the former Dundee, Livingston and Brechin player who is credited with bringing through United's conveyor belt of talent, including Ryan Gauld and Stuart Armstrong is now to take the club to an employment tribunal citing unfair dismissal and whistleblowing issues.
The 47-year-old was suspended in August amid claims of a breakdown in the relationship between him and then manager Jackie McNamara.
It was alleged he had breached club rules and he was asked to stay away from the club pending an investigation.
Campbell, 47, submitted his resignation to United chairman Stephen Thompson last night after almost a decade of service to the club's hugely successful youth academy.
In his statement to United, it is understoodCampbell has outlined his reasons for resigning among them that he feels the allegations raised against him are spurious and as a result therelationship between his employers and himself had irretrievably broken down.
Last night Campbell confirmed he had tendered his resignation after almost 10 years at the club and said he was "disappointed" with United's actions in suspending him.
He said: "I'm desperatelydisappointed that it has come to this stage, but I feel I have been left with no other option but to resign given the way the club has handled the situation.
"I have been suspended since August without, I believe, good reason on a series of unfounded allegations.
"I believe that throughout my career at Dundee United I have always acted in the best interests of the club and the players I have worked with.
"In addition, during the past few months I believe I have acted with dignity and respect for everyone involved in the situation. However, I am very disappointed that the club has chosen to pursue the path they have.
"After taking legal advice I believe the best course of action is to resign and pursue my case through an employment tribunal.
"I'm looking forward to the opportunity to clear my name in an open forum where Dundee United supporters will be able to form their own views on the rights and wrongs of what has happened."
The employment tribunal claims will relate to unfairdismissal and whistleblowing under the Public Interest Disclosure Act, Campbell's solicitor John Muir of Dundee legal firm Muir Myles Laverty said.
The reasons for his suspension have never been revealed by United, but a well-documented rift between former manager Jackie McNamara saw him being excluded from the first-teamdugout on match days last season.
Campbell was also missing from the official club photograph for the first time in nine years this season and his suspension followed soon after, following an alleged breach of his duties.
Having been responsible for helping develop the careers of such players as Gauld now with Sporting Lisbon and Celtic's Armstrong, Campbell's worth is well recognised by football fans.
The club have not yet issued an official response to their nowformer coach's decision to resign.
However, Courier Sport understands that, like Campbell, they are very disappointed that it has come to this.
Over the course of the whole affair, the Tangerines are adamant they have done everything by the book.
They believe that they had to act as they did, having been left with no option but to suspend Campbell given the seriousness of theallegations made against him.
Significantly, the club had set his disciplinary hearing for Wednesday, when they hoped the matter would be addressed. That has, of course, now been cancelled.