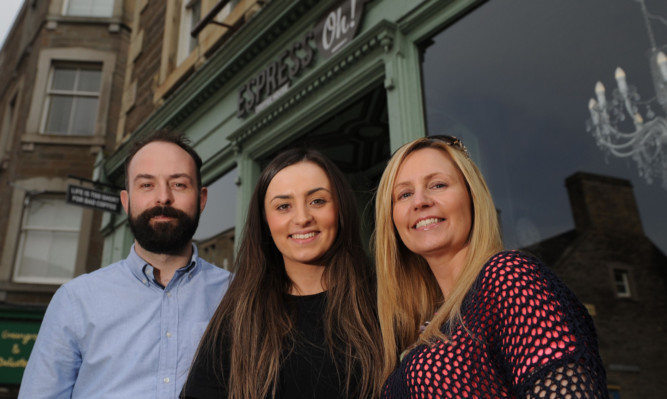 NHS Tayside has been forced to admit arguments intended to prevent a Dundee business gaining an alcohol licence were without foundation.
Public health officers claimed allowing caf Espress Oh! on the city's Perth Road to sell wine and craft beers could exacerbate the West End's problems with violent crime.
The claim shocked owner Barry Thomson, who will fulfil a long-held dream to run a restaurant when the business reopens after a major refurbishment.
It will continue as a caf during the day, but will become a fine dining establishment in the evening, offering a small amount of drinks to accompany the meals.
Councillors backed his bid at a meeting of Dundee City Council's licensing boardon Thursday, when NHS Tayside's concerns were dismissed as "pure sensationalism".
On behalf of the health board, Dr Lynne Hamilton asked councillors to refuseMr Thomson an alcohol licence.
She said that NHS Tayside was concerned that awarding a licence would only lead to over-provision of alcohol sales in the West End and potentially do health and social harm.
Dr Hamilton also warned that the area was "above the average rate for alcohol-related sexual crimes in Dundee".
When pressed by councillors, however, she and a public health colleague accepted that the numbers were "marginal", and also accepted that it would be unfair to link the business to any particular risk.
Solicitor Janet Hood, acting for the caf's owners, husband and wife Barry and Tammy Thomson, told councillors: "To suggest that sexual crimes could be affected by myclient's caf is beyond the bounds of making an argument."
Police Scotland said it had no concerns about the award of an alcohol licence.
Its latest figures show a downward trend in crime within the West End.
Councillors voted by seven to one in favour of granting an alcohol licence to the business after themselves questioning NHS Tayside's grounds for objection.
The sole dissenting opinion came from Councillor Georgia Cruickshank, although her objection was made solely on the grounds of over-provision of alcohol licences within the area.Owner welcomes decisionCaf owner Barry Thomson said he is delighted by the board's decision.
Already successful, he is keen to develop Espress Oh! and see it become a restaurant in the evenings, offering fine seasonal dining with a focus on local produce.
He spent £50,000 upgrading the kitchens and dining area to bring his dreams to life and hopes to open by the end of May.
On board by then will be a top chef with experience of fine dining restaurants.
"I'm delighted the board took this decision," he said. "I think they've been very reasonable.
"I'm a keen cook myself but I will be bringing in a really good chef whose job it will be to put my ideas on the plate and I'm reallykeen to start working with him.
"We want to match wine and Scottish craft beers with our meals that's been our idea from day one and thankfully this decision allows us to do that.
"This is not about offering fizzy mass-produced lagers and becoming an off-licence. It's about educating diners and offering them some of the very finest local produce.
"We should be open for customers in late May, early June and we can't wait to get started."