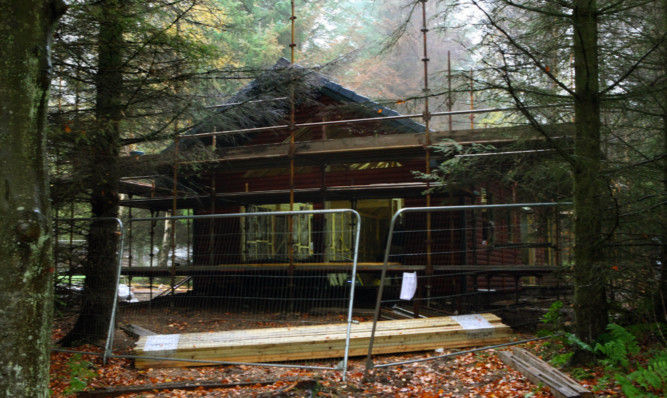 The investigation into a fatal fire at Piperdam, near Dundee, has been passed to a specialist Crown Office unit responsible for probing unexplained deaths.
The body of 26-year-old Aberdeen man Jamie McLennan was found in the remains of the lodge at the resort on September 25, the day after the building was destroyed by fire.
It took two weeks to identify Mr McLennan's remains.
Forensic officers spent days removing evidence in the aftermath of the blaze but have been able to ascertain what started the fire or whether it was started deliberately.
The investigation has now been passed onto the Scottish Fatalities Investigation Unit.
Run by the Crown Office and Procurator Fiscal Service, the is responsible for investigating all sudden, suspicious, accidental and unexplained deaths.
A Crown Office spokesman said: "The procurator fiscal has received a report in connection with the death of a 26- year-old male in Fowlis, Dundee, on September 26 2015.
"The investigation into the death, under the direction of Scottish Fatalities Investigation Unit (SFIU), is ongoing, and the family will be kept updated in relation to any significant developments."
The September 26 date refers to when Mr McLennan was officially pronounced dead rather than the date of the blaze.
He had last been seen getting into a taxi near the Grosvenor Casino in Dundee at around 3.30am on September 24, just four hours before the blaze that claimed his life.
It is understood he had been staying with two registered guests at the resort.
Neither of them was in the building at the time of the blaze.
Although it is just over a month since the fire that claimed Mr McLennan's life, work to rebuild the destroyed chalet has already begun.
The detached building was almost completely destroyed in the fire, but has already been substantially rebuilt.
Mr McLennan died shortly after being released after being jailed for three months following an altercation at T in the Park.
Other cases investigated by the SFIU included a probe into a fatal Aberdeen car crash that killed Steven Reiach and his fiance Dawn Watson in April.
The Crown Office did not bring any charges after concluding its investigation.