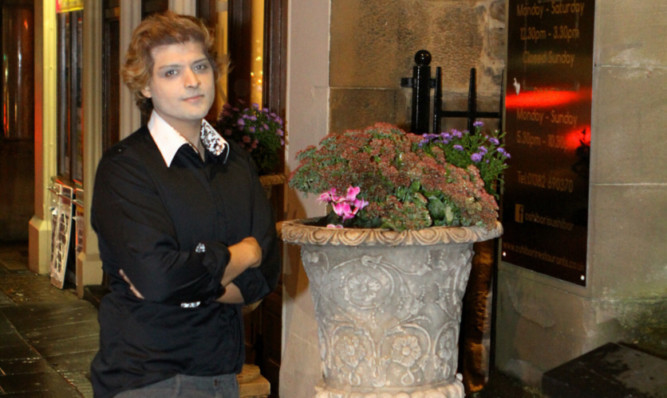 The director of a Japanese restaurant has been told he cannot put down roots in Dundee in case two plant pots cause a hazard on the pavement.
Usman Malik, who runs Oshibori, has been told by Dundee City Council that he cannot leave two planters at the entrance to the Nethergate restaurant because they cause an obstruction to pedestrians.
For more than a decade, the local authority has forbidden any advertising signs or boards from being placed on the pavement outside shops for fear they can impede disabled visitors.
Now Mr Malik has been told that ban extends to plant pots too much to the restaurateur's dismay.
Mr Malik said: "All we are trying to do is to beautify the city. If Dundee needs a change then I believe the council should act in a friendly and appropriate manner.
"The festive season has already started and all I am trying to do is to make my place look decorative and presentable.
"I am not putting any sign boards on the pavement, I am not placing any unnecessary objects on pavements but a pair of planters?
"Oshibori has been open in the city since July 2014 and we have attracted many customers and tourists from all over the UK and the world."
Mr Malik denies the urns present an obstruction and said Dundee City Council's website contains no advice about whether businesses can place advertising hoardings or other items outside their premises.
He said: "A pair of urns cannot hurt anyone closer to the walls, if there is any law then it should be visible on the council's website or, at least, they should have the answer. Not just order 'we have the right to remove them'.
"I believe as a citizen it is our right, especially when we are trying our best to help the local economy."
Mr Malik said the restaurant's fame has even spread to Japan, where it is being considered as the potential subject for a television documentary.
A spokesman for Dundee City Council said: "Section 59 of the Roads (Scotland) Act 1984 deals with control of obstruction in roads.
"It states that 'nothing shall be placed or deposited in a road so as to cause an obstruction except with the roads authority's consent in writing'.
"In this case, no request was made to the council. As well as periodical inspecting for obstructions such as this, the council will always act on complaints."