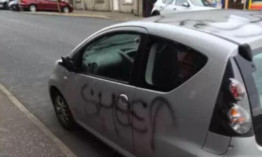 An Aberdeen fan who had his car vandalised by football hooligans before the club's clash with Dundee United has said he will hold no grudges over the incident.
Retired mental health nurse Charlie Forbes said that "every club has a few muppets" and he did not blame the Arabs over the incident.
Spray-paint wielding thugs emblazoned the word 'sheep' as well as the acronym 'DUFC' on the 55-year-old's car, which he had parked on Dundonald Street, near Tannadice.
A kind-hearted Aberdeenshire mechanics firm, Jim Reid Vehicle Sales, have now offered to repair the damage for free and The Courier understands that a Dundee United director will also foot the bill for any additional repairs.
It is also understood that Mr Forbes has been invited to hospitality at Tannadice.
According to a viral post publicising the incident on Facebook, Mr Forbes's car was targeted because of his Aberdeen FC scarf in the back window.
Nevertheless, the former NHS Grampian worker said he holds no grudges over the incident.
He told The Courier: "I was a little shocked when I first saw it, but not entirely surprised.
"I had meant to move my scarf and dice out of view when I parked, but it slipped my mind.
"My main concern was how I was going to pay for the damage."
Kind-hearted mechanics have now offered to repair the vehicle for free as well as provide a courtesy car while Mr Forbes waits for the work to be done.
"I'm so grateful for the help and support I've received, it's made all the difference," he said.
"When I got back from Dundee I was feeling quite low but when I heard that Jim Reid was offering to pay for the repairs that made me feel much better.
"I've also got loads of support from both Aberdeen and Dundee United fans on Facebook and Twitter.
"Every club has a few muppets it's got nothing to do with Dundee United fans or anyone else really."
Mr Forbes, who lives near Aviemore, will have his car, which also suffered wing mirror damage, repaired on Thursday.
He said he has also reported the incident to Police Scotland.
Sales manager at Jim Reid Vehicle Sales, Phil Buchan, said the firm was moved to help after they heard Mr Forbes's story.
"We spotted the post on Facebook and felt the urge to help out," he said.
"After a little while we managed to track Charlie down and offer our help."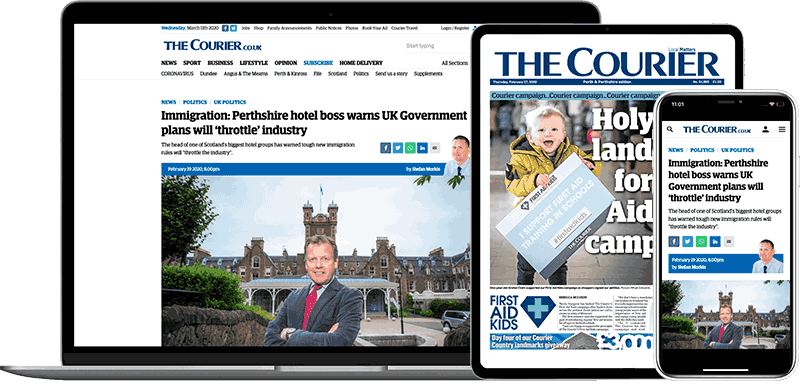 Help support quality local journalism … become a digital subscriber to The Courier
For as little as £5.99 a month you can access all of our content, including Premium articles.
Subscribe