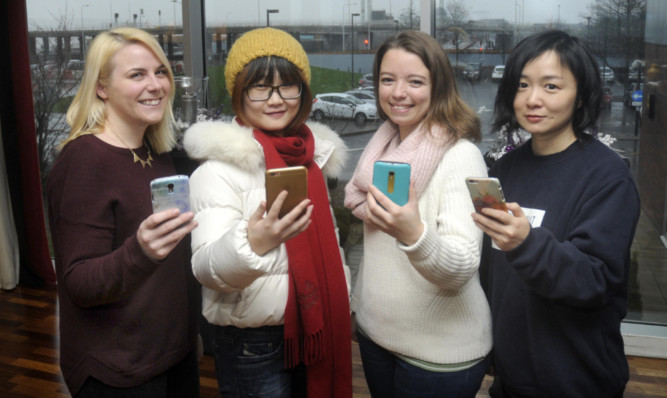 A host of international travel bloggers say they have been "blown away" by Dundee after touring the city's cultural landmarks.
Six travel experts from England, France, Hong Kong and China visited the city as part 'Blogmanay' an event run by Edinburgh's Hogmanay designed to share Scotland's culture with the world
As part of their trip, the international visitors went up Dundee Law. They also donned virtual reality goggles to examine the city's highly anticipated V&A project.
And they enjoyed a ceilidh aboard the Unicorn at City Quay.
Another highlight saw the group treated to a preview of a new computer game designed by students at Abertay University.
Award-winning writer and travel blogger Emily Luxton told The Courier that she and her fellow travellers had been left "blown away" by what Dundee had to offer tourists during their three-day visit.
Emily, who regularly keeps her 12,000 Twitter followers entertained with tales of her trips to cities like Barcelona and Bangkok, revealed: "We've all been really surprised.
"I knew nothing about Dundee before we came, but I've seen some really quirky things. There's so much cool stuff going on.
"We spent time looking at plans for the V&A project through virtual reality goggles.
"The V&A project looks really exciting. The plans look amazing and I think it'll be a cool, interesting space.
"From what we saw, I think it will transform the whole city. Everyone around the city just seems so excited by what's going on
"People in London don't get excited about new things that often, so to see how proud the people of Dundee are about their city is nice.
"We've all been very impressed with both the design and creativity of Dundee and are thinking of coming back in May for the Dundee International Design Festival."
Emily now believes that her followers will be as impressed with Dundee as she has been.
She said: "I think that people will be surprised. People are always really interested to see parts of the world that aren't instantly thought of as good places for them to visit."
Anna Day, manager of Dundee, Unesco City of Design, said: "We were delighted to kick off 2016, the Year of Innovation, Architecture and Design, with a visit from a group of international bloggers visiting Scotland as part of the Blogmanay campaign.
"Our team enjoyed showing them the city and what design means to us. We're looking forward to fantastic year of design activity."