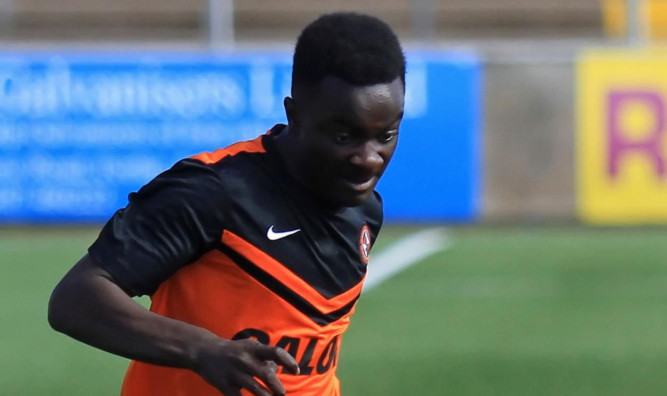 A Dundee United player was subjected to racist abuse by an elderly man at a pre-season friendly in Fraserburgh.
Dutch youngster Justin Johnson was praised for how he handled Saturday's situation involving a man thought to be in his 80s.
The Fraserburgh FC fan, who has not been identified by the club, was thrown out of Bellslea Park during the tie with United's under-20s squad.
The Highland League club are investigating and say further action could follow.
Finlay Noble, the club's chairman, said: "We don't want that in our ground. This is a young lad who has come up as part of a visiting team who has handled the situation very well.
"It's a shame that he has to put up with that kind of abuse.
"There was one comment that was made, and it was handled by the lad and his club. Once we get more information we, as a club, will handle it."
A spokeswoman for Dundee United said the club is still waiting for full details of the incident.
"We don't have any information at this point," she said. "When we have all the details we will no doubt deal with it in an appropriate manner."
The co-chairman of Fraserburgh's supporters club, Brian Topping, said the man, who he described as a pensioner, had attempted to regain entry to the ground to apologise to the player for his actions, but was turned away.
"Any type of abuse, of any kind, has no place in football at all, regardless of whether it's Premier League or amateur football," Mr Topping said.
The charity Show Racism the Red Card, which uses football to educate against abuse in society, has offered its support to the investigation.
For more on this story see www.pressandjournal.co.uk.