 Anti-royal graffiti has been daubed on the Tay Road Bridge.
It's thought to have happened around the time of Princess Charlotte's birth. The words "No more royal parasite" were sprayed on a brick column on the Dundee side of the bridge, at Riverside Drive.
One motorist, who spotted the slogan while driving down Riverside Drive, said no matter what people think of the monarchy, offensive graffiti is never acceptable.
He said: "I don't know exactly when it was sprayed, but I think it was after the birth of the second royal baby, as I hadn't seen it before.
"I was quite shocked, to be honest I know some people don't like the royal family, but this is going too far. There's no need to spray graffiti or resort to nasty insults, whatever your personal opinions are."
West end councillor Fraser Macpherson said he wants to see the graffiti removed as soon as possible.
He said: "Obviously I condemn this sort of mindless vandalism and the cost to the public purse of getting it made good again.
"I'll be making a point of contacting the council's rapid response team to make sure it's cleaned off as a matter of urgency.
"My view is that no matter what the graffiti says, it's unacceptable. It's not just unsightly and damaging to property, but it costs a lot to clean."
Police said they haven't received any reports of the incident but urged the public to get in touch if they see anyone with spray paints.
A spokeswoman said: "This type of incident is anti-social behaviour, can be unsightly, creates a negative impression of the communities we live in and can raise fear to both residents and visitors alike.
"We would ask the members of the public to assist us by considering whether they have seen anyone in possession of aerosol paints in public places.
"Anyone with any information is asked to contact Police Scotland on 101."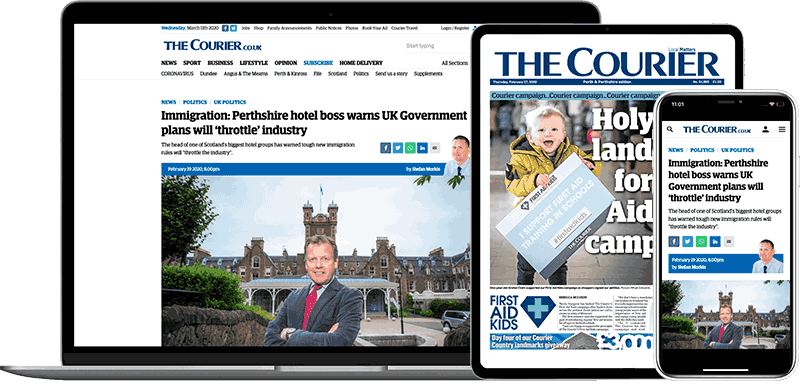 Help support quality local journalism … become a digital subscriber to The Courier
For as little as £5.99 a month you can access all of our content, including Premium articles.
Subscribe