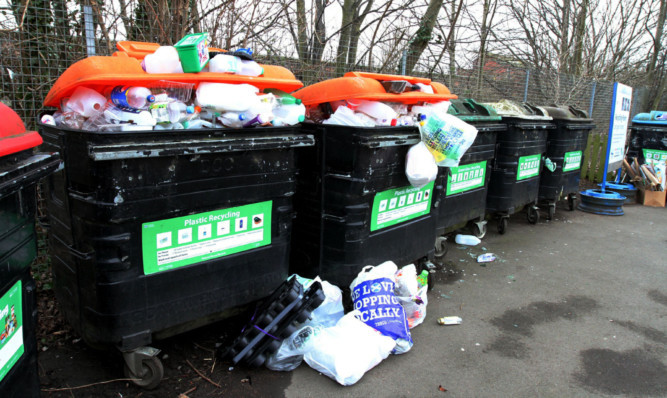 The residents of a Dundee street are demanding an end to an "eyesore" created by overflowing bins at a recycling centre.
West End councillor Fraser Macpherson said several people had contacted him with concerns over the mess at Roseangle car park.
He said: "This is the third time in as many months residents have spoken to me about it."
Mr Macpherson said he would be demanding a review into what was going wrong.
"To be fair to the council, every time I have contacted them in the past the mess has been cleared up pretty quickly," he said.
"But the fact that it keeps happening shows something is going wrong here.
"The local authority needs to look at the capacity for collecting recycling rubbish at the site and the frequency with which it is collected."
His concerns were backed up by Dundee Green Party. Pauline Hinchion, of Dundee Greens, said several people living at Roseangle had spoken to the party about it.
She said: "Recycling at Roseangle is obviously not fit for purpose and something needs to be done.
"We would like the council to explain if it is up to them to collect the waste here or if this is one of the services they have contracted out. So far, we have not been able to get answers from them.
"What is clear is that the capacity is not sufficient for the recycling waste left here and it is certainly not collected often enough."
A Dundee City Council spokeswoman said: "We are actively pursuing various improvement options that could be implemented at the site in the future."