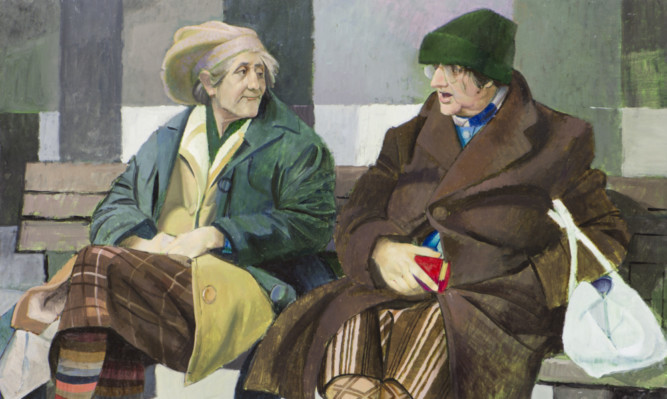 The painting is entitled "Two Auld Wifies, Dundee" and as it arrived in Dundee an appeal was made to identify the two sitters in artist Ron Stenberg's masterpiece.
Curators at The McManus, to which it has been donated by the New Zealander, were keen to uncover the history behind the two "women" pictured as they chatted on the corner of Reform Street.
The woman on the left of the striking picture has now been identified as Mrs Janet Isles-Denny, one of Dundee's wealthiest citizens who left her entire fortune to benefit the people of her home city.
However, she was not, as the artist thought when he painted her and her companion in 1982, chatting through the day's news with a female friend.
She was, in fact, on an outing with her son Alexander, who had profound learning difficulties his "dress" actually cut-off trousers.
Art curator at The McManus, Susan Keracher, said: "In uncovering Mrs Isles-Denny's identity and learning something of her life, we are pleased that, alongside the work of her Isles Denny Trust, the painting will stand as testament to her life and the evident joy she felt in sharing time with her much- loved son Alexander."
"My colleagues and I were delighted to receive this painting as a generous donation from Ron Stenberg.
"We feel sure it will become a popular and much-loved addition to the city's nationally significant fine art collection."
To this day, the Isles Denny Trust continues to make grants to support Dundee charities.
The painting is currently on display at The McManus, where it will remain until November.