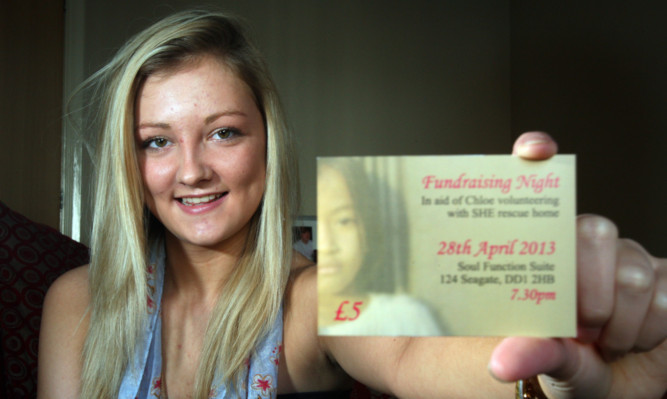 A harrowing documentary on the trafficking of children in Cambodia has spurred on a Dundee woman to sign up to help young victims of the crime.
Chloe Miller-Kelly (20) was so moved at the plight of girls as young as three being sold by their parents into prostitution that she pledged to travel to the country to assist in a rescue home.
Chloe, who lives in the West End, has now embarked on a fundraising drive to pay for the two-week trip in June, helped by her colleagues.
Former Menzieshill High School pupil Chloe said the TV programme had left a lasting impression.
She said: "It affected me a lot it was really hard. It showed the girls who have been affected by trafficking.
"Some of their own families had sold them for money and it was to buy things like TVs. It really upset me. In the documentary they were speaking about a rescue home and I looked it up online after I watched the programme.
"It was something that I wanted to do, and this year I wanted to go away in the summer so I applied for it and got accepted for it."
Chloe, who hopes to study community learning and development at university later this year, said she would be helping out at the She Rescue Home in Phnom Penh.
She said: "The girls there have been affected by sexual abuse, forced labour and prostitution.
"It's like a care home where they give the people therapy and look after them. They also do activities and teach them skills so when they leave they can make money without having to go back into that industry.
"I'll be assisting with crafts and working with the girls' families to try and get them to be reunited with their daughters.
"Obviously that would be once the risk of it happening again is gone."
Chloe's workmates at the Tesco customer service centre on Baird Avenue have organised a fundraiser for the trip, which will cost about £1,500.
Chloe said she hoped her volunteer work would help highlight the misery endured by the victims of human trafficking.
She said: "Most of my friends and family have been encouraging.
"With the type of work involved, people are a bit more concerned, but everybody has been really supportive. I don't think a lot of people know just how serious it actually is.
"By doing this trip I'm trying to raise awareness to show that it does go on in Cambodia really badly, but it also goes on all over the world as well."
The fundraising evening will take place at Soul Function Suite on April 28 and includes donations from companies and raffle prizes. Tickets, costing £5, can be bought by contacting chloefundraiser@live.co.uk and donations can be made at gofundme.com/1yvhw0.