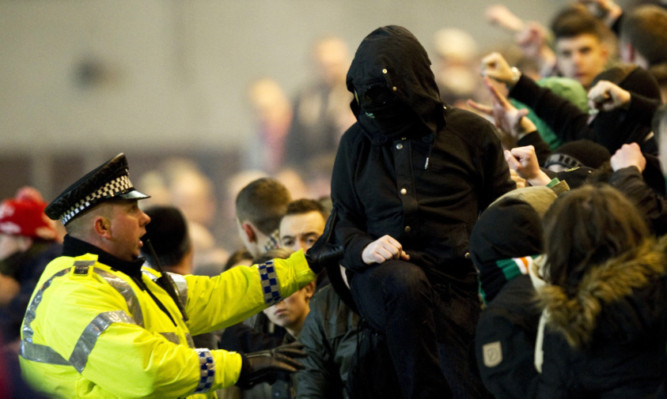 Celtic's chief executive has apologised to Dundee FC after crowd trouble marred a clash between the sides at Dens Park.
Tempers flared at Wednesday's SPL match amid reports of widespread drunkenness among the away support, including fans fighting between themselves and abusing staff.
Celtic chief executive Peter Lawwell said: "We are very proud that Celtic supporters enjoy such a great reputation and it is therefore extremely disappointing that the behaviour of a small minority has tarnished the good name of the club and our fans in this way.
"Clearly, we apologise to Dundee Football Club we will work with them and look into any incident which is raised and if we can identify any individuals involved, we will obviously take the strongest possible action.
"We have received a number of complaints from our own supporters about the conduct of this minority we cannot allow our supporters' enjoyment of our matches to be affected in this way and we will not sit and allow the club's reputation to be damaged.
"Our supporters over many years have earned a fantastic reputation for positively supporting the club we will not allow this to be taken from them.
"It is time for all our true supporters who care about Celtic to unite with the club and find a solution to this problem."
Dundee FC officials blamed the evening kick-off for the chaotic scenes.
Jim Thomson, the operations manager at Dundee FC, said the behaviour of a section of the away support was like a "throwback to the 1970s".
He said: "I have never seen anything like the behaviour of the Celtic fans in the 20 years I have been running games at Dens Park.
"The situation was almost unmanageable and I have never seen so many people drunk.
"Our fans were abused, our stewards were abused and no doubt the police were abused. The turnstile operators were visibly shaken.
"The away fans had no respect for their surroundings they were doing the toilet where they stood.
"I had Celtic fans come up to me to tell me they were 'embarrassed' by their fans' behaviour."
Mr Thomson blamed the late kick-off of the game which Celtic won 2-0 and which was broadcast live on ESPN.
He said: "The game should never have kicked off at 7.30pm on Boxing Day it gave the supporters too much time to get drunk.
"Everyone knows this time was chosen to fit in with the TV schedule but the atmosphere at the game was frightening."
A Tayside Police spokeswoman said a number of people are to be reported to the procurator fiscal for alleged football-related offences.