 HUNDREDS OF council tenants can look forward to having their heating bills slashed.
An £8 million scheme is being planned for the Kirk Street area of Lochee, including the Adamsons and Elders Court multis and nearby low-rise flats.
It will see the flats get new kitchens and bathrooms, the buildings coated in new insulation and a gas-powered district heating system installed.
Housing convener Jimmy Black said: "With this scheme, tenants could be looking at a reduction in their heating bills of between 30% and 40%.
"We have been at the forefront of energy efficiency in Dundee for a number of years, for example, the district heating system at the Dallfield multis.
"With this proposal, residents of both the multi-storeys and the low-rise homes will be able to benefit from better insulation, cheaper, more controllable energy and new kitchens and bathrooms."
The council will pick up £5 million of the cost, with £2.8m coming from Scottish Gas and another £250,000 from the Scottish Government.
Mr Black said: "By upgrading the external insulation and render something the council could not have afforded on its own and installing a gas-powered district heating system, ECO funding has given us a way of achieving the Scottish housing quality standard.
"It is a way of providing warm, comfortable homes for tenants as well as a way to address fuel poverty.
"This development makes living in that part of Lochee an attractive proposition and fits with the council's regeneration of the area by keeping the population within walking distance of local shops and businesses."
This will be the second major energy efficiency project in the area.
The council and Scottish Gas have already joined forces on a £3m upgrade at Lansdowne, Pitalpin, Ancrum and Burnside Courts to fit outside insulation and install a district heating system.
Councillors will be asked to give their approval next week.
Housing director Elaine Zwirlein said 403 tenants and 32 owner-occupiers will benefit from the work.
The home-owners will not have to be billed because the government grant will meet their share of the costs.
All homes owned by the council have to be brought up to the Scottish housing quality standard in the next few years.
Ms Zwirlein explained that achieving the heating standard in multis is difficult and costly but upgrading the external insulation and installing district heating will allow the Kirk Street flats to meet the target.
"District heating is a system that distributes heat generated from an energy centre via a network of insulated pipes into individual homes," she said.
"Radiators just like the ones associated with a 'wet' central heating system are fitted in the flats, together with individual heat exchangers, which take the place of boilers.
"District heating is a cost effective and realistic method for reducing carbon emissions.
"Residents pay only for the heat they use via an internet-enabled metering arrangement.
"This will allow them to pay for their fuel via the internet, by phone, by direct debit or by calling into one of the designated council offices which have a point-of-sale."
She added: "Existing and new tenants of the Kirk Street developments can expect a real transformation to their blocks.
"The partnership with Scottish Gas will result in a substantial investment that will keep their flats warmer, reduce heat loss through the walls and give the blocks a whole new appearance."
Work is expected to begin early this year and last for 12 to 15 months.
grsmith@thecourier.co.uk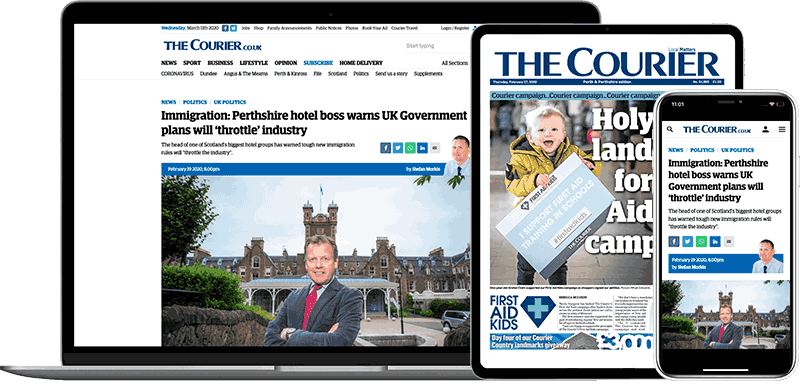 Help support quality local journalism … become a digital subscriber to The Courier
For as little as £5.99 a month you can access all of our content, including Premium articles.
Subscribe