Baby scan shows rock 'n' roll star in the making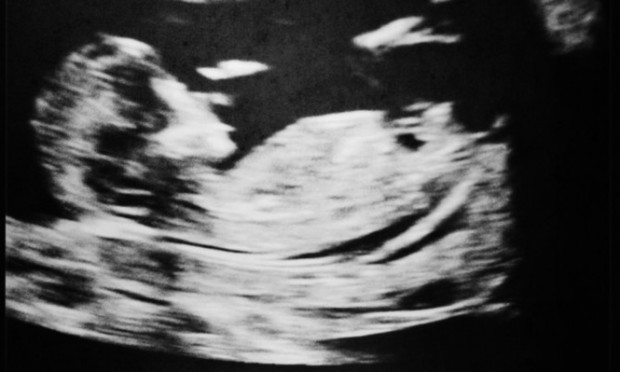 A DUNDEE musician has been left stunned after a scan of his unborn baby bore a resemblance to his hero Liam Gallagher.
Oasis fan Alan Turner (31), formerly of the Rise and Lost City Soul, says he and his wife Claire (29) were gobsmacked when they ran their "beady eye" over the scan.
"It's pretty crazy really," Alan said.
"I was always going to call the baby Liam if it was a boy and when we saw the scan I just thought: 'Wow, look at that hairdo, it's pure Liam.'
"It might just be a shadow because it's not normal for babies to have that amount of hair at that stage, but if it is then it's something that could only happen to me.
"I've always been a massive fan of Oasis and I said point-blank to Claire we would be calling the baby Liam if it was a boy."
Alan admits that it is a case of "Definitely, Maybe" as Claire is against using Liam as a boy's name.
"She thinks it's too obvious," he said.
He added: "When we saw the scan, Claire just looked at me then insisted tongue in cheek that she has never met Liam Gallagher.
"I believe her as I've always been told I look like him anyway, so I'm happy with that," he laughed.
While looking ahead enormously to the birth of their baby in July, Alan is cursing the timing as it clashes with the live music festival season.
As both a musician and a music fan, he is a regular attender at gigs and festivals throughout the year and is bemoaning the fact he will miss Primal Scream's only Scottish festival appearance on the weekend the baby is due.
"That's Wickerman that weekend, the baby is due on July 24 and I'm totally gutted I'll miss them," he said.
"Claire would hammer me if she thought I would go that weekend, though, so I'd better be sensible and rule it out now.
"I'll be struggling to get to T in the Park and Rockness as well. I was at every one of the Scottish festivals last year so maybe that's karma.
"So, it looks like it'll have to be a quieter summer this year."
Do you have a baby scan that looks like a celebrity? Let us know by emailing The Courier news desk at news@thecourier.co.uk.
awilson@thecourier.co.uk