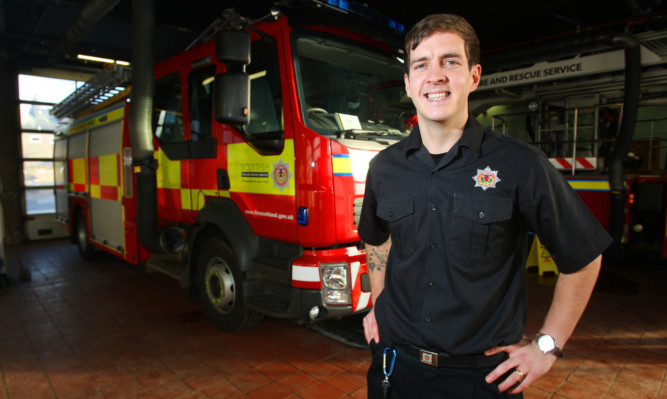 Stevie McCrorie is to turn his back on a full-time music career less than a year after winning The Voice.
The 31-year-old will rejoin his former colleagues at Kirkcaldy Fire Station within weeks for what is understood to be family reasons.
The singer-songwriter took the nation by storm last year after wowing judges with his performances on the BBC's flagship Saturday night show.
https://youtube.com/watch?v=0aJEoJOX4Mw%3Flist%3DPLPglX4LjfEanYi7YMhGJI7MQCkCSNPr5E%26controls%3D0%26showinfo%3D0
However, an apparent lack of industry support in the aftermath of his victory has hindered his career, with Stevie telling friends that he was returning to the fire service to provide a steady income for his wife and child.
Although his representatives and the singer himself were remaining tight-lipped, The Courier understands Stevie, who lives in Alva, will continue to perform alongside his firefighting duties.
A fireman based in Kirkcaldy when he auditioned for the show, he won the fourth series of The Voice under the guidance of his mentor Ricky Wilson.
His winning single, Lost Stars, debuted at number six on the UK singles chart, but it was January of this year before the follow-up album Big World hit the market, charting at a disappointing number 35.
Stevie is thought to have been upset about a lack of exposure and support from radio stations, with BBC Radio 1 and Radio 2 not playlisting his material.
He returned to The Voice last weekend to perform a track from Big World as this year's series gears up to its climax, and in an interview earlier this month he insisted that he had no regrets about appearing on the show, adding: "I went on that show and won it and made my life better."
https://youtube.com/watch?v=jOkInpXBewI%3Frel%3D0%26controls%3D0%26showinfo%3D0
However, the singer had always said that he would keep his options open and return to the fire service if it was best for his family.
The Scottish Fire and Rescue Service was unable to comment when contacted by The Courier.