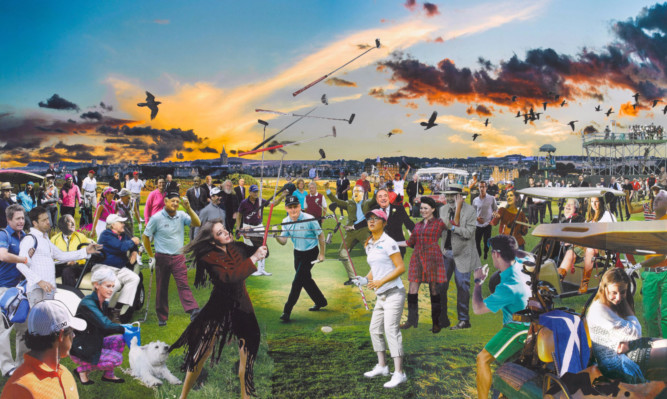 The excitement of the Open has been captured on canvas.
Two Over Par sees eminent artists, Fife-born David Mach and Salford-based Harold Riley, share their different perspectives of the ancient game.
The exhibition of their work in celebration of the 144th Open, is taking place in one of Scotland's oldest privately-run galleries Fraser Gallery St Andrews.
The venue is just a chip shot away from the Old Course.
Methil-born Mach, who is famous for his large scale collages, sculptures and audacious installations, has re-imagined one of the game's most iconic images The Golfers: A Grand Match, by Cupar-born artist Charles Lees,
His version tempts the viewer to spot the host of famous faces.
He said it was "crazy" to have grown up in Fife surrounded by golf courses and never taken up the game. "There is a real obsession to it and, although I am not a player, obsession is something I understand very well as an artist."
The Golfers: A Grand Match played over the Links of St Andrews on the day of the Annual Meeting of the Royal and Ancient Golf Club was painted by Charles Lees during 1846 and 1847.
It depicts a two ball foursome where Sir David Baird and Sir Ralph Anstruther challenged Major Hugh Lyon Playfair and John Campbell of Glen Saddell.
Harold Riley is an eminent portrait painter who was a friend of LS Lowry, and who has painted three Popes, as well as John F Kennedy, Nelson Mandela and Prince Philip.
Gallery owner Louise Fraser said the exhibition was the first time Mach and Riley had exhibited together.
The exhibition runs for three weeks.