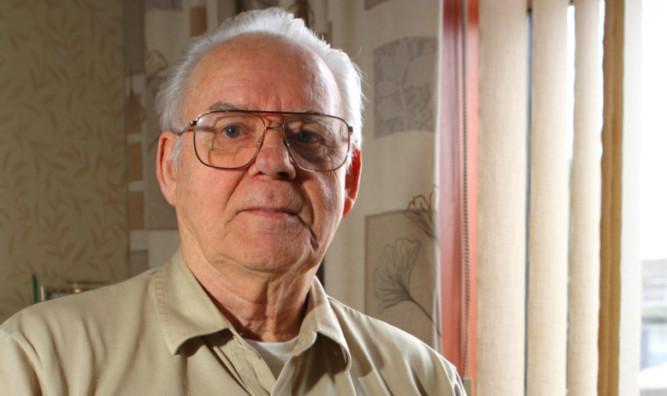 The RAF Valiant bomber, painted in anti-flash paint, circled over the idyllic Pacific island at 45,000 feet before releasing its special cargo into the void below.
The four-ton metal cylinder containing a top secret mix of high explosives, isotopes, and circuitry fell for around a minute before a fuse ignited and at 8000 feet above the sea, it exploded.
Servicemen who observed the detonation from Christmas Island say they had no protective gear. Instead they were ordered to turn their backs and cover their faces from the blinding flash with their hands, as the giant mushroom cloud expanded into the skies before them.
Some would later report that the flash was so bright they could see their bones through closed eyes, like an x-ray. Others were knocked down by the blast and burned by the heat.
Amongst them was army engineer Dave Whyte, from Kirkcaldy, who witnessed five nuclear blasts after being sent to Christmas Island in the South Pacific in 1958.
The Cold War was at its height and Mr Whyte, then aged just 22, was stationed there, off the north-eastern coast of Australia, to assist with British nuclear tests.
His job was to collect samples afterwards.
At the time the stakes were high. Amid real fears that the Cold War could escalate into open warfare with the USSR, Britain was determined that it should have its own nuclear deterrent.
In all, Britain and the USA caused some 40 nuclear test explosions in the Pacific region between 1952 and 1962.
Something like 21,000 British servicemen were exposed to these explosions.
But little did Mr Whyte and his colleagues realise that in years to come, some would suffer ill health and in some cases premature death. Some would suffer from rare forms of leukaemia. Others reported congenital deformities in their children with a disproportionate number of stillbirths.
A study undertaken by Sue Rabbitt Roff, a social scientist at Dundee University in 1999, found that of 2,261 children born to veterans, 39% were born with serious medical conditions. By contrast, the national incidence figure in Britain is around 2.5%.
Mr Whyte started suffering from severe stomach problems and pain aged 22, and later found out he was sterile. He is one of 1,000 test veterans who, in recent years, have sued for negligence after the British government, unlike many other western countries, consistently refused compensation.Mr Whyte says the MoD has, in fact, spent more than £4 million blocking legal claims brought by hundreds of nuclear veterans and their families.
The British Nuclear Test Veterans' Association (BNTVA) charity has been campaigning on the issue for decades.
Mr Whyte has had some success, although the MoD said it could not find the full set of records of his radiation exposure.
In his latest freedom of information request, Mr Whyte tried to find out whether monitoring devices at "ground zero" were being used to measure gamma radiation levels.
But the MoD responded that his requests were "burdensome and time consuming" and disclosed only a few redacted documents.
Judge Chris Hughes has now rejected Mr Whyte's complaints and paid tribute to the MoD's "conscientious" efforts to assist him.
But following this set-back, Mr Whyte, now 79, is determined to battle on and has accused the MoD of cynically waiting for veterans to die off.
The relentless campaigner told The Courier: "When the nuclear tests were being performed, it must be borne in mind that we were totally naive regarding radiation and its effects.
"At Porton Down, the individuals knew they were being used in human experiments, although they may not have been aware of the chemicals being tested.
"The nuclear veterans were unable to taste, feel, or smell radiation and were oblivious to its presence. In order to confuse matters, the Secretary of State for Defence has lied regarding the information obtained from radiation detection measures. "
Mr Whyte said there are still numerous cases at court with his own case at the High Court in London stayed awaiting the results of various cases to be heard around March 2016.
He added: "It is my intention to let the country know the lies, and distortion of facts, successive governments have committed, in order to keep the true facts relating to servicemen being used as human guinea pigs, and the true radiation dose rates received, secret from the general public.
"The British nuclear tests were a major experiment and rules of safety must apply to all experiments.
"The British servicemen and their Allies did not volunteer, they were conscripted.
"Although I am not anti-nuclear, I do consider the situation we were placed in was inhumane. "
The Ministry of Defence has said it is unable to discuss individual cases but added that the MoD recognises the "debt of gratitude we have to the servicemen who took part in the nuclear tests. They were important tests that helped to keep this nation secure at a difficult time in terms of nuclear technology."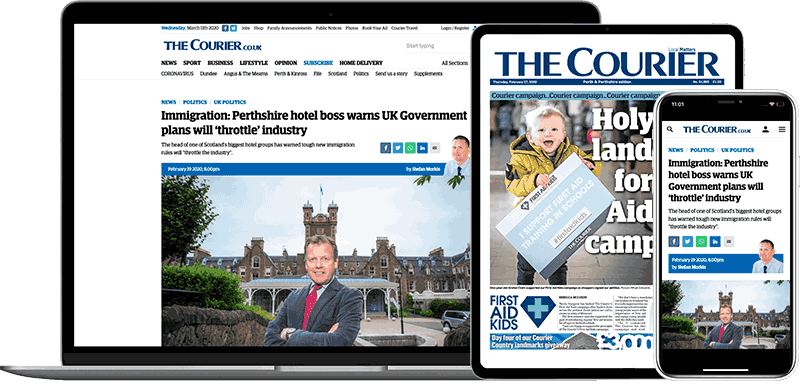 Help support quality local journalism … become a digital subscriber to The Courier
For as little as £5.99 a month you can access all of our content, including Premium articles.
Subscribe