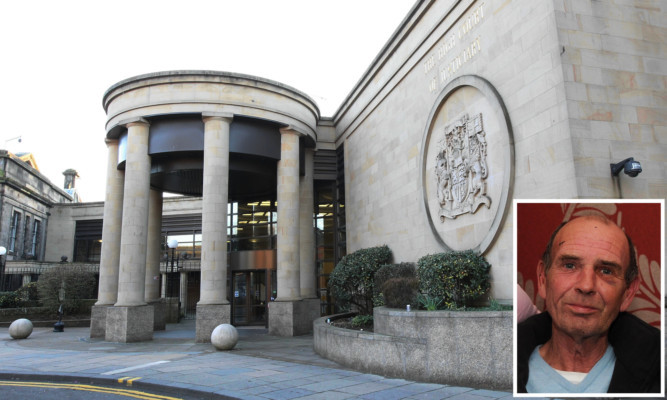 A gang of four masked robbers who tortured a Fife man for his life savings in his own home have been jailed at the High Court in Glasgow.
John McLeese, 28, of Witches Linn, Ardrossan, and Andrew Dickinson, 28, of Glencoats Drive, Paisley received prison sentences of 10 years each while Gary Alexander Carcary, 20, Caol Court, East Kilbride received a nine-year sentence and Mark Dickie, 28, of Woodlands Crescent, Johnstone, in Renfrewshire was given eight years.
The men broke into the victim's home in Lochleven Road, Lochore on Thursday September 26 2013 before tying him up, subjecting him to an attack, ransacking his house and making off with several thousand pounds of his cash.
The four were previously convicted on Wednesday February 18 at the High Court in Edinburgh where they entered guilty pleas.
Ian Masterton, who was 54 at the time of the assault, endured 45 minutes of torture at the hands of the gang before he told them where he had stashed his savings.
They eventually made off with £90,000 following the raid.
During his ordeal a threat was made to put Mr Masterton's head in a wood-burning stove and he was also threatened with an axe.
The gang also suffocated him with a dish towel and threatened to pour boiling water on his head.
Mr Masterton was forced to relive the ordeal in the witness box at a trial at the High Court in Edinburgh before four of his attackers entered guilty pleas.
Mr Masterton, a car mechanic, said he is now so scared at night he barricades himself in his home.
Speaking exclusively to The Courier after the raid in 2013, Mr Masterton said he thought he was going to be murdered.
He said: "They tied me up and I got put in my sitting room and was assaulted. Some were away ransacking the house.
"One was kicking me, punching me. One kept on coming back and screaming 'Where's your money?'. I said I didn't have money. Then he said that if he found money then I'd be 'getting it'.
"This went on. They were in possession of weapons and made it clear I was going to come to further physical harm. I thought they were maybe going to kill me. That was going through my mind.
"After about 20 minutes I ended up telling them where the money was because I didn't know what was going to happen to me. I didn't know what they were capable of."
Judge John Morris QC deferred sentence on the four robbers until Wednesday.
Detective Chief Inspector Pauline McCallum said: "This was a horrific crime carried out in a man's own home where he was threatened with violence until he revealed where his money was hidden.
"Despite being left physically injured and mentally scarred, the victim has shown great courage in providing essential information and evidence in order to assist with our enquiry. We are also grateful for the assistance of key witnesses in the case.
"This was a lengthy investigation involving officers from different divisions and departments across Police Scotland and their hard work and commitment in this case has resulted in these men receiving substantial sentences today."
For more on this story see Thursday's Courier or try our digital edition.