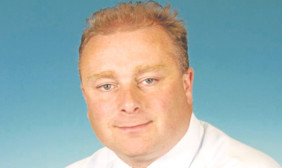 Convenience store veteran David Sands is to return to the sector when he opens a new outlet in Glenrothes later this year.
The industry stalwart, who sold his chain of 28 shops across Fife, Kinross and Perthshire to the Co-operative for an undisclosed sum in 2012, plans to open his new venture on the site of the well-known Oast House pub on Caskieberran Road in March.
Construction of the new store, which will be known as David's Kitchen and will trade under the Nisa Local fascia, is already well under way.
Keith Fernie, a former senior manager and buyer with the Sands chain, has been brought in as managing director and will take on day-to-day running of the business. He is already recruiting new staff.
Mr Sands, who has been working on his property interests since selling the business two years ago, will act as chairman and be joined by father Lindsay and sister Marjorie Watts in the boardroom.
Both were directors at his former business.
"It's great to be back in the high-profile convenience store arena, and I'm absolutely delighted to have Keith Fernie on board. He is an extremely trusted colleague, vastly experienced and the ideal person to have at the helm of this exciting new business," Mr Sands said.
"Keith will be responsible for the day-to-day running of the business with the support of Nisa, the largest independent grocery buying group in the UK, with whom we have previously enjoyed a long and highly successful partnership."
The store will feature its own in-house kitchen, producing a range of food-to-go options using the same branding and logos previously used across the David Sands estate.
David's Kitchen will also support local and Scottish producers.
"Our mission is to provide great customer service, tasty fresh food, quality and value for money in a modern convenience store that is at the very heart of the local community," Mr Fernie said.