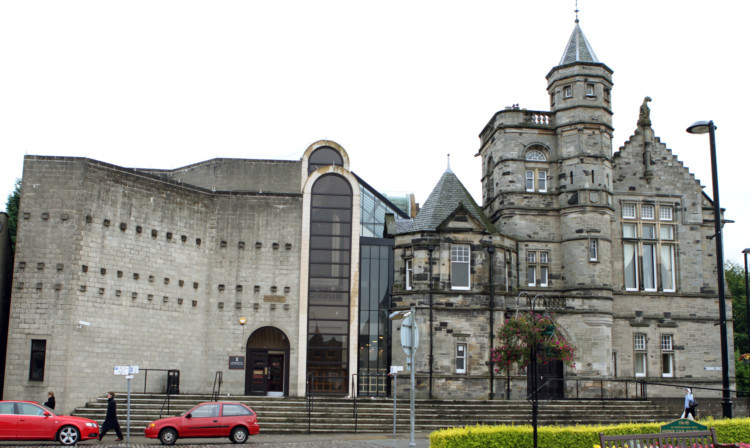 A 38-year-old woman has been jailed for a year after threatening to cry rape while robbing an 82-year-old man in his home.
Elaine Rush dropped her trousers and told the Kirkcaldy pensioner she would call the police complaining of a sexual assault, then demanded money from him.
The victim had opened his front door to let his dog out when he became aware of Rush, who he did not know, standing nearby.
Rush was bleeding from the neck, which depute fiscal Dev Kapadia said was due to her picking at an old wound.
She asked the pensioner for a cloth to clean herself and when he went to hand one over she barged past him into his home.
Rush then asked to use the complainer's toilet and he reluctantly agreed.
Mr Kapadia said: "She remained in the bathroom for 10 minutes and the complainer became concerned and asked if she was OK.
"He didn't get a reply. When he entered he saw the accused bent over with her trousers down, clothes around her ankles and backside facing toward him."
The pensioner tried to get her out of his house but the two ended up in a struggle in the living room, before Rush went into a bedroom, fell over a leather seat and lay down with her legs open.
Mr Kapadia said: "At this time the accused said the complainer had raped her and she was going to call the police. Such was her mental state that she believed something had happened when it had not."
Rush told the pensioner she would say nothing if he gave her £35, before upping the amount to £500. When he refused, Rush got up from the sofa, pulled up her clothes and demanded money again.
A further struggle ensuedduring which Rush removed the victim's wallet from his pocket, took his money and left the house.
Police officers later detained Rush and found £340 stuffed in her left sock.
Rush's solicitor said her client was a "severely damaged and disturbed lady" and that when she first entered the house she did not intend to commit any offence.
At Kirkcaldy Sheriff Court on Friday, Sheriff Max Hendry said: "This offence was in my view an appalling offence. I cannot see any alternative other than prison."
Rush, a prisoner in Cornton Vale, admitted, on August 7 2013 at Overton Road, Kirkcaldy, assaulting the man, demanding money from him, struggling with him and forcibly removing his wallet and robbing him.