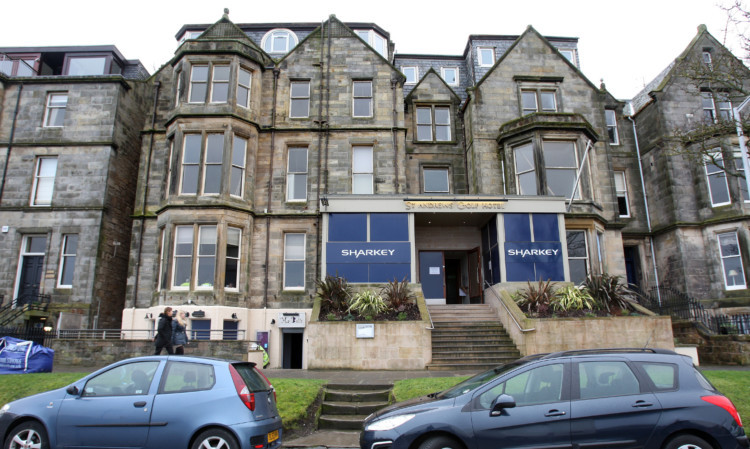 The first phase of the £3.5 million redevelopment of the former St Andrews Golf Hotel will open in April, it has been confirmed.
Hotel du Vin, on The Scores, will employ around 60 people by the time it is complete later this year.
Refurbishment of the existing bedrooms, bar and restaurant is well under way, but work to add a new accommodation block to the rear of the building will continue into the summer.
This second phase, which will boost capacity from 22 rooms to around 40, is expected to be completed by August.
Recruitment for the new site is already under way, upping employment at the site around fourfold and creating dozens of new jobs in the town's tourism sector.
Posts being advertised include several management team positions, plus bistro, sommelier and housekeeping roles.
A recruitment open day is to be held this Friday at St Andrews Town Hall in Queen's Garden.
Malmaison and Hotel du Vin chief executive Gary Davis said he was sure the upmarket brand, which focuses heavily on its food and wine offering, could do well in the St Andrews market.
"Hotel du Vin is a 14-strong group and we've got hotels in places like Winchester, Cambridge and Edinburgh," he said.
"The brand does very well in these historic towns and in university towns. With the tourism market in St Andrews, we think it's a location that could do very well for us."
Much-loved bar Ma Bell's will also be given a revamp as part of the makeover.
Contractor Sharkey is handling the renovation works, and has already been on site for eight weeks.
The project is Mr Davis' second in east central Scotland, following the opening of the delay-hit 91-bed Malmaison hotel on Dundee's waterfront earlier this month.
But the firm has made light of the problems joking on its website that the new venue was "worth waiting for", and adding that "you can't rush genius".
The group was acquired by Denver-based KSL Capital Partners for a reported £180m in March last year, after parent company MBW Group collapsed into administration.
Mr Davis has since revealed his ambition to expand the reach of both the Malmaison and Hotel du Vin brands into Europe and the US, as well as throughout the UK.
He aims to agree six new Hotel du Vin sites and three more Malmaison locations this year, while also eyeing opportunities in Scandinavia and cities like Chicago and San Francisco in the US.
Bristol, Dublin and London are under the microscope, as is Stratford-upon-Avon.
Mr Davis is also looking into the possibility of adding a new Hotel du Vin in Aberdeen to the company's portfolio, alongside the Granite City's existing Malmaison site.