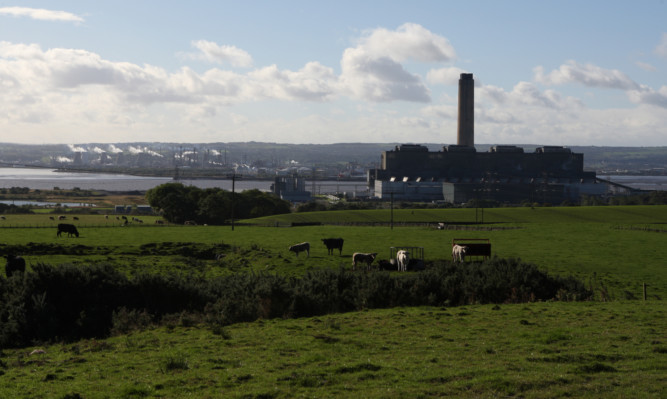 Energy union Prospect has urged politicians to stop treating the troubled Longannet Power Station like a "political football" and work together to secure its long-term future.
Last week, it emerged that the Fife plant will close by the end of March next year unless owner Scottish Power secures a short-term contract with the National Grid to help maintain voltage levels in the electricity supply.
Deputy First Minister John Swinney visited the plant and blamed the current crisis on UK energy policies which saddle Scottish generators, which provide 12% of the UK's energy supply, with "35% of the charges".
But Conservative energy spokesman Murdo Fraser blamed Longannet's woes on the Scottish Government's "obsession" with wind power.
Prospect, the union representing engineers and professionals in the energy supply industry, will meet with shadow energy minister Tom Greatrex today to urge him to push for a deal on the National Grid's regionally-based charging system, which "discriminates against electricity generation in Scotland".
Prospect negotiator Richard Hardy said: "It's important that politicians stop using our members as a political football.
"This issue is about jobs and the ability of all companies to develop new generation assets for Scotland.
"It shouldn't just be seen as an opportunity to back one of the 'Big Six'."
Mr Swinney said: "This situation illustrates why Scotland must no longer accept a position where our levels of electricity security are threatened by UK energy policies.
"National Grid say that proposed changes will reduce charges by one-third but Longannet's charges are forecast to increase from £40 million this year to £51 million in 2017 and 2018.
"That is why Longannet is threatened with premature closure and why jobs and investment are being lost to Scotland under the current UK regime."
Mr Fraser, convener of Holyrood's Energy Committee, said: "The Scottish Government are right to be concerned about security of energy supply but it is their obsession with developing vast amounts of intermittent and expensive wind energy that have contributed to the current situation.
"The pursuit of green energy policies, energetically promoted by the SNP, already meant that Longannet had no future beyond 2020.
"With both Torness and Hunterston due to close by 2023, we could lose 55% of our electricity-generating capacity within eight years.
"The SNP oppose new nuclear and are against fracking for onshore shale gas. Under their watch, we are set to go from being an exporter of electricity to being reliant on imports from England."
Lang Banks, director of environmental protection organisation WWF Scotland, said: "Thanks to the massive growth in Scotland's renewable power output and planned upgrades to the transmission network, the lights will not go out when Longannet eventually closes before the end of the decade.
"Even if Longannet were to close in 2016, the National Grid is already taking steps to ensure grid stability."
At committee last week, Mr Fraser suggested Scottish Power was engaging in "brinkmanship" and using Longannet workers as "pawns in a game" to try and force National Grid's hand on a deal.
Neil Clitheroe, chief executive of retail and generation at Scottish Power, replied: "Our plan was always to get to 2020 and keep this plant going.
"We've invested £350 million in the plant over the last six or seven years.
"It's not brinkmanship at all, it's just an economic reality of the situation we find ourselves in with regard to Longannet."
Mike Calviou, director of transmission network service at the National Grid, said it was obliged by its licence to procure the most economic option that was in the best interests of consumers.