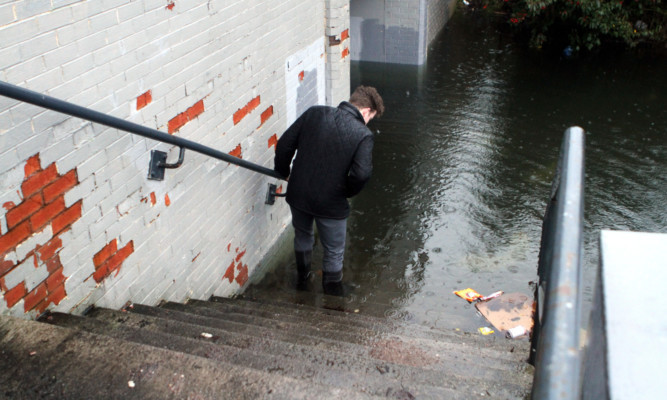 Images of a regularly flooded underpass in Dundee show that it would be ludicrous to build a new school on St Andrews' North Haugh, it has been claimed.
Water was just 4ft from the ceiling of the pedestrian tunnel under the A90 Forfar Road, near the Morrisons supermarket.
If the replacement Madras College was built at North Haugh, an underpass or crossing would link it with its sports pitches across the A91 on Station Park.
St Andrews Environmental Protection Association Limited (Stepal), which is legally challenging the selection of a site at Pipeland for the new school, accused Councillor Brian Thomson of recycling old stories already discredited by independent engineering reports.
Mr Thomson highlighted photographs from our sister newspaper, the Evening Telegraph, of the Forfar Road tunnel to illustrate one of many reasons he believes North Haugh, which also floods regularly, is unsuitable.
He said: "The images of the flooded underpass in Dundee clearly illustrate what an act of folly it would be to construct an underpass linking the North Haugh and Station Park.
"The part of the North Haugh where Stepal has promoted the construction of a new school has been flooded for a number of months now.
"Station Park has recently been flooded, and it's widely known that the water table in the area is extremely high.
"Furthermore, both areas lie within an area identified by the Scottish Environment Protection Agency (SEPA) as being at risk of flood."
Pipes currently being laid by St Andrews University, he said, may mean an underpass would have to be built deeper than normal.
A Stepal spokesman said: "It is quite wrong for Councillor Thomson to quote a specific problem in Dundee when there are many examples of successful underpasses all over the country which do not suffer from flooding.
"His interest in this issue is at odds with his lack of concern about the established flooding problems at Pipeland.
"Dealing with the major site issues at Pipeland, which was chosen without any technical assessment whatsoever, would be much more expensive than providing a modern state-of-the art crossing at North Haugh/Station Park.
"Councillor Thomson should turn his attention to the many effective examples of underpasses, including the one which served St Leonards School for many years linking the residential accommodation and tennis courts with the main school."
Construction of the school has been delayed until the outcome of the legal challenge is known.
An appeal was heard by the Court of Session in Edinburgh in January.