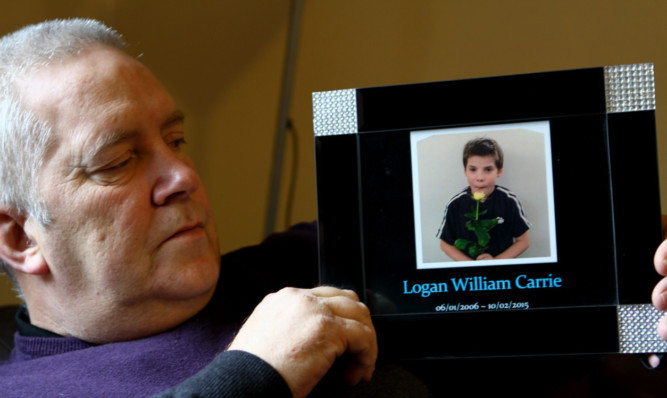 A lasting memorial to a nine-year-old boy killed in a tragic accident will be unveiled by his school friends this week.
Youngsters at Pitcoudie Primary in Glenrothes will be presented with a wooden train filled with flowers in memory of little Logan Carrie.
Poignant messages to the primary four pupil will also be attached to balloons and released as pupils pay tribute to their friend.
Logan died on February 10 after being struck by a car as he attempted to cross a busy stretch of the notorious A92 in Glenrothes. It is thought he ran through a gap in a hedge into the path of rush-hour traffic.
His heartbroken family has since launched a campaign for safety improvements on the route, including a pedestrian overbridge near the Balfarg junction close to where Logan died.
Although the Scottish Government has said there are no plans for a bridge, Logan's grandfather, Robert Brown, will discuss his concerns with Infrastructure Secretary Keith Brown at the Scottish Parliament on June 25.
Train-daft Logan was a huge fan of Thomas the Tank Engine and mourners wore Thomas T-shirts to his funeral, where his coffin was carried in to the show's theme tune. His relatives said the train planter is a fitting tribute to the little boy, who is buried at Leslie Cemetery.
Friday's memorial will be attended by members of his family, including mum Sionaid Brown, twin brother Zachary, sister Tiegan and grandparents Robert and Alice.
They will be joined by representatives of Kingdom Kids and Help For Heroes, the two charities which benefited from money raised at Logan's funeral.
Grandad Robert, 54, who lives in Dunfermline, praised Pitcoudie Primary for arranging the ceremony.
"The school said not long after Logan's death that they wanted to get a train in his memory," he said.
"Logan loved trains so the school has had a wooden one made. It's a planter for flowers and plants.
"It's going to be presented on Friday and the children will release some balloons with messages for Logan.
"Family members will be there and it will probably be quite emotional,"