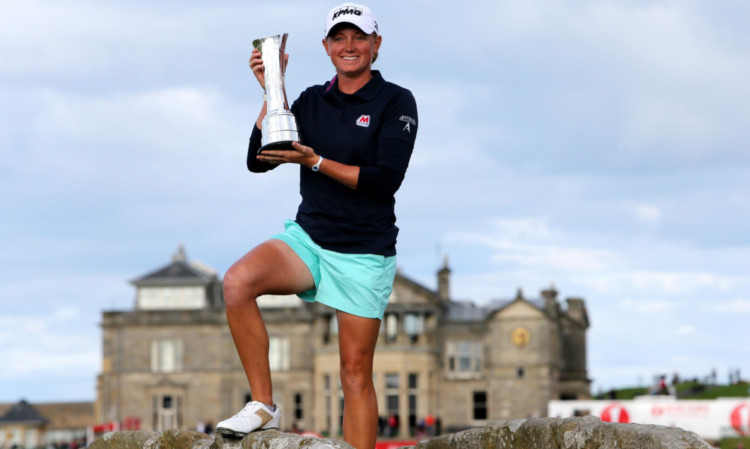 Last year's British Women's Open at the Old Course in St Andrews was worth £5.2 million to the Scottish economy, according to new figures.
The championship returned to the Old Course for a second time and was won by American Stacey Lewis.
Tournament organisers the Ladies' Golf Union (LGU) and IMG have an agreement with Scottish Government agencies to host the Women's Open, one of the five Ladies Professional Golf Association (LPGA) major championships in Scotland, onalternate years.
The economic impact study by the Sports Industry Research Centre at SheffieldHallam University showed a £500,000 increase on the last time the Women's Open was in Scotland, at Carnoustie in 2011.
The study was commissioned by LGU and IMG, EventScotland, Fife Council and Scottish Enterprise.
Ross Hallett of IMG Golf said: "The Ricoh Women's British Open is one of the highlights of the women's global golf schedule and to bring the event back to St Andrews was a very popular move forplayers and fans alike.
"Much credit goes to EventScotland for their commitment to the delivery ofworld-class golf in Scotland.
"The results of the study underline the importance of the championship to the local and national economies, and we are looking forward to returning to Scotland in 2015."
Fife gained an estimated £3.46m in net direct expenditure as a result of thechampionship, according to the study.
Councillor Lesley Laird added: "Golf tourism is a hugely important economic driver for Fife and hosting major golf events is a key part of that.
"The Ricoh Women's British Open is another successful example of St Andrews and Fife playing host to key golf events, and we look forward to welcoming yet another huge event when the Open Championship returns to the kingdom in 2015.
"The financial benefits to Fife in pure monetary terms are obvious, but it is also much more than that.
"It is about continuing to grow andmarket our reputation and showcase the extensive and excellent golf courses and golf tourism businesses."
The deal to host the Women's Open biennially in Scotland lasts until 2019 andit heads to Turnberry, in Ayrshire, in 2015.