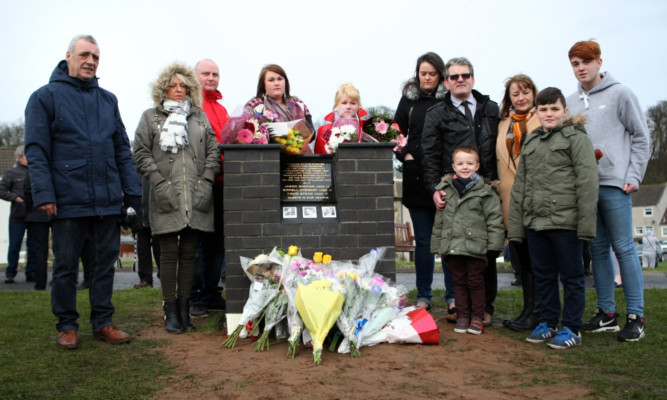 A memorial to three men who drowned in a tragic fishing accident last year has been unveiled.
Devastated family and friends of David Stead, 47, Jason Buchan, 35, and 30-year-old Birrell Stewart joined forces to ensure the lasting tribute in their home village of East Wemyss.
The trio had been enjoying a fishing trip on the Firth of Forth, just off the Wemyss coast, on August 10 when their boat capsized following a dramatic change in the weather.
The memorial plaque, secured to a plinth, was the brainchild of close friend Andrew Comrie, who sought permission and secured donations from local firms including Buckhaven Building Supplies, Granite Systems and B&Q.
He had been with the three in the hours before their deaths and is still struggling to come to terms with their loss.
"It was Birrell's first time out in a boat," he said.
Mr Comrie dropped the friends off on what began as a beautiful afternoon but the weather soon changed and he could see them from his window returning to shore.
"I went through, put the kettle on and when I came back and looked again I couldn't see them," he said.
Mr Comrie phoned the coastguard but it was too late.
He said people began talking about a memorial after the funerals and he enlisted the help of Councillor David Graham, who unveiled it on Saturday.
"Hopefully this will make locals feel a bit better about such a tragedy," he added.
Mr Graham said he was "truly honoured" to be asked to unveil the memorial.
"It was humbling to see the community pulling together to support the families at the time of the incident and thereafter which I'm sure was comforting to the families involved," he said.
"My sympathy goes to the families for their loss, however this memorial is a fitting tribute to the memory of the men who lost their lives and shall continue their memory for generations to come."