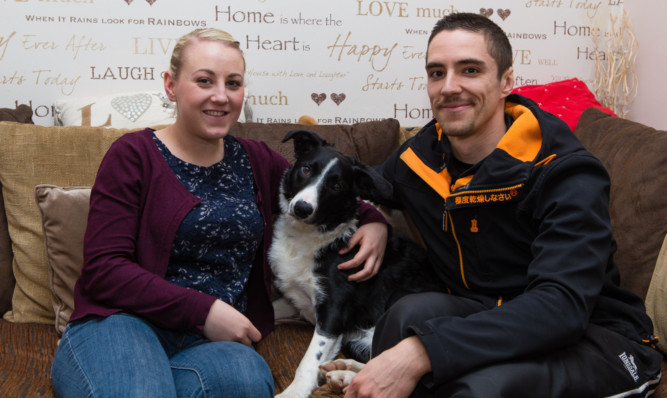 A Kirkcaldy couple watched in horror as their young puppy was attacked at a local beauty spot.
Michael Thomson and his partner, Laura Annan, had been walking eight-month-old Ollie at Pathhead Sands on Sunday when the border collie was attacked by two other dogs.
Described as either Staffordshire bull terriers or pit bulls, the two dogs launched a vicious attack on the couple's pet, leaving the pup requiring veterinary treatment.
Police are now looking into the matter, and while Ollie is recovering his owners say that they have been deeply upset by the experience.
"The dogs came running up and started sniffing Ollie," said Michael, 28, a gym instructor.
"We thought they were being playful at first and Ollie rolled on to his back.
"Then one of the dogs had Ollie by his neck, while the other went for his rear.
"The owner had to beat them off.
"The kind of dogs they are, they have lockjaw and so they don't let go.
"Ollie was howling in pain.
"The owners just said sorry, that it had never happened before and drove off."
The couple immediately headed to a vet, where they had to make arrangements for an emergency out-of-hours appointment for Ollie's treatment.
He received stitches for puncture wounds on his neck, though otherwise is said to have escaped without any serious injury.
Describing the dogs which attacked his puppy as "fighting dogs", Mr Thomson said that he and his partner were still struggling to come to terms with Sunday's incident.
"I've never seen it happen before," he added.
"I've seen little dog syndrome before, but they have always been on leads.
"I have never seen a dog look like it was going to kill before and I've been around dogs all my life.
"Ollie has been fine since, but myself and Laura have found it hard going."
Police officers have visited the couple as they attempt to trace the owners of the two dogs, who were seen leaving the beach in what has been described as either a blue or green 4×4, possibly a Ford or BMW.