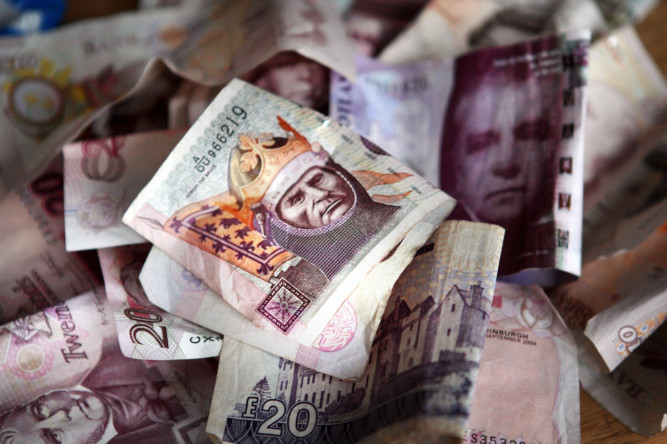 A new survey shows the old clich of Scots being thrifty with their cash may have some truth to it.
Scotland is said to be home to some of the UK's top savers, according to new research by Nationwide.
With the end of the tax year just passed, the study identified the most common UK regions for cash ISA holders in order to take a snapshot of the nation's saving habits.
While Harrow in London takes the top spot for having the highest cash ISA savings balance, people living in the Kirkwall, Dumfries, Edinburgh, Perth, Aberdeen and Fife postcode areas feature prominently on the list.
Kirkwall is second on the UK list and is top of the Scots, with savers squirreling away an average of £16,578, Dumfries comes in sixth (£14,623) and Edinburgh in seventh (£14,378).
Perth is next on the penny-pinching list with £14,325, just ahead of Aberdeen on £14,269, while the KY postcode for Fife is 12th with savers putting away an average of £14,000.
Dundee failed to make the top 20, although the region came in as having an average of £13,348 in savings putting them squarely in the middle of the UK's map.
Tom Riley, head of savings at Nationwide, said savings are particularly important at the moment ahead of one of the most significant changes to personal finances.
The new personal savings allowance (PSA) will allow every basic-rate taxpayer £1,000 of savings income free of tax, with higher-rate taxpayers receiving a £500 allowance.
"So are ISAs still relevant for savers? In a nutshell, yes. It's important to think longer term because, while you may be comfortably within your personal savings allowance at present, that situation could change," Mr Riley said.
"If and when interest rates start to rise, the £1,000 allowance may get eaten up more quickly than it is at present."
More information is available at:http://www.nationwide.co.uk/guides/news/articles/2016/03/isas-unpacked