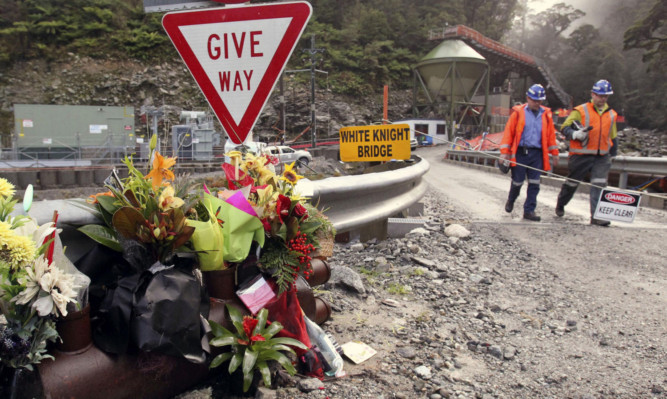 The father of Fife mine blast victim Malcolm Campbell does not expect to see a penny of the £57,000 compensation his son's employers have been ordered to pay.
A New Zealand court has ordered Pike River Coal to pay NZ$110,000 to the families of each of the 29 men who died in a gas explosion at its South Island colliery in 2010.
It has also been fined NZ$760,000 after being found guilty of health and safety violations. But the firm is in receivership and Malcolm Campbell senior told The Courier he had been advised to expect as little as NZ$5,000.
He doubts whether he and wife, Jane, who live in Cameron, near St Andrews, will get even that.
But if the couple do receive compensation, he has pledged to give it to the young families who have been left without fathers by the disaster.
Mr Campbell's 25-year-old son was one of two Scots to lose their lives.
Pete Rodger, 40, of Perth, was also killed by a series of underground explosions caused by a methane gas build-up.
Pike River Coal had failed to spot danger signs as it tried to boost production at the colliery.
Mr Campbell branded the sentence imposed following a hearing in Greymouth a joke and said: "The company no longer exists, so there are no assets. It can't afford to pay either the compensation or the fine.
"Some of the families have been left in dire straits because they lost husbands and bread-winners.
"We are different, we lost our son. I would rather give any money that we get to the families who need it."
Mr Campbell reiterated his call for the individuals who ran the company to be convicted of manslaughter and punished properly.
Former chief executive of Pike River Coal, Peter Whittall, faces trial on 12 charges.
But Mr Campbell said: "There are managers and directors who have never been held accountable. These people have walked away and got other jobs in the industry.
"It is a slap in the face for the families of the victims that these men can go and work with other men's lives."
At the hearing Judge Jane Farish said: "There were many indicators that the mine was in a potential explosive position but the warning signs were not noted or heeded."