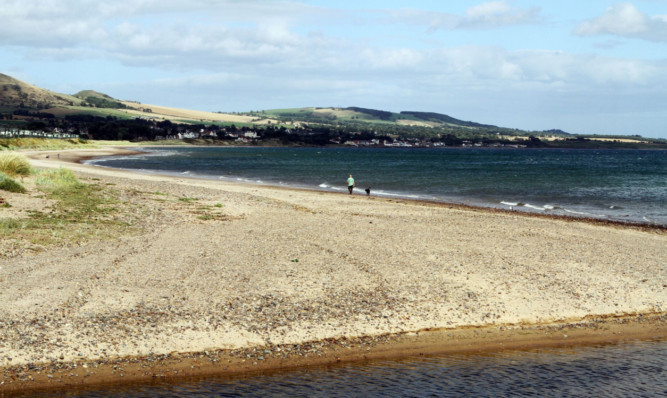 Controversial plans to ignite coal seams off the Fife coast are to be the subject of high-level talks next week.
Oil baron Algy Cluff will meet Scotland's Energy Minister Fergus Ewing to discuss proposals to set fire to coal beneath the Firth of Forth at Largo Bay and Kincardine and pipe the gas to shore.
The 73-year-old has been granted licences by the Coal Authority for the process, known as underground coal gasification (UCG), which has sparked concerns of a potential environmental disaster.
He claims burning billions of tonnes of subsea coal will produce enough gas to fuel Britain cheaply and efficiently for hundreds of years.
However, fears have been expressed that Fife's rising minewater could become polluted with carcinogenic chemicals which could then leak into the environment.
Questions have now been asked as to how licences for a largely untested technique could be granted without any consultation with local communities.
Councillor Tom Adams, chairman of Fife Council's Levenmouth Area Committee, has grave concerns over the proposal, which would involve almost 19,500 acres beneath the Forth from Leven to Elie and stretching across as far as the Bass Rock.
He has written to local authority chief executive Steve Grimmond and council leader Alex Rowley to make them aware of the concerns, and hopes to meet Algy Cluff during his visit to Scotland on August 29.
The councillor said not enough was known about UCG, and that Largo Bay and Kincardine were being used as test sites. The process involves drilling a 12-inch vertical borehole into a coal seam between 1,300 ft and 4,000 ft below the sea bed.
The seam is then flushed with oxygen and ignited with a burner. The resulting gas is piped to onshore power stations where a mix of hydrogen, methane and carbon monoxide is separated for burning.
Mr Cluff has formed a new company, Cluff Natural Resources, to carry out the work and has five conditional licences in the UK which secure him the rights to the coal but do not permit operations to begin until other permissions are in place, including environmental consent from the Scottish Government.
He said: "It is our intention to seek the necessary planning and environmental permits to advance these projects with a view to production.
"Deep UCG has the potential to do much to address the UK's future energy needs, avoids the use of fracking and enables the gas generated to be easily controlled by the supply of oxygen."
Mr Adams, a former miner, said the by-products of burning coal, such as benzine, were highly flammable, toxic and carcinogenic. "If the mine water becomes polluted with this and it seeps through the ground it could cause major problems to grazing cattle," he said.
"Years ago we put a dye in the water at Rothes Pit and it came out in St Andrews, so the whole of Fife could be affected."
Mid Fife and Glenrothes MSP Tricia Marwick said: "Given the potential implications of such an application I would have thought at the very least the community should have been consulted."
A Scottish Government spokesperson said: "The Energy Minister meets routinely with companies in the energy sector and has agreed to a request to meet with Cluff Natural Resources to discuss their plans for potential employment and investment as they relate to Scotland.
"Applications for development of any energy sources in Scotland will be determined on their merits . . . through the normal planning process and the appropriate regulatory regimes."