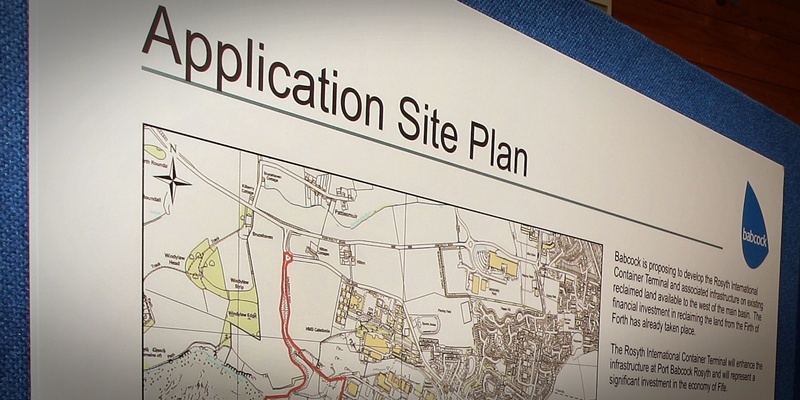 Residents opposing a container terminal at Rosyth have made a last-ditch plea for the project to be scrapped ahead of a public inquiry into the proposals.
Due to start today, the inquiry into the Harbour Revision Order submitted by Port Babcock Rosyth Ltd for the RD57 dock is expected to last around six weeks.
Although Babcock maintains its blueprint could create hundreds of jobs and breathe new life into the area, members of the Joint Action Group formed by 65 residents and Charlestown, Limekilns and Pattiesmuir Community Council have urged Scottish Government reporters examining the proposals to support their concerns and block Babcock's plans.
JAG spokesman Sue Hamilton said the group fears the plan could waste millions of pounds of public money on rail infrastructure support for what could become "another west Fife white elephant" drawing parallels with the multi-million pound Hyundai plant near Dunfermline which lay empty for 14 years before demolition was started last year.
The group also fears the project could put jobs, homes and wildlife at risk.
"Babcock must reconsider before they and the country waste too much money on this," she said. "Otherwise, the public could end up subsidising another white elephant through unnecessary, expensive, dedicated infrastructure for an unviable 'vanity project' based on a flawed business plan which seems to have been blindly endorsed by politicians.
"This is a brownfield site that has been left virtually unused for years. It is a disgrace that it hasn't been used productively before now. We want to see it developed for a facility that would create sustainable jobs in appreciable numbers.
"If we knew this was the right and only thing to do in the national interest, we would be taking a different approach. However, the more we've learnt about this, the more we've realised this isn't in the national interest.
"We're calling on anyone who cares aboutthe nation's resources being used properly in a recession to support us in this fight for the facts to be given a proper hearing."
The HRO applications need to be assessed to receive the necessary consent to build, operate and maintain the proposed £85 million terminal at the RD57 dock, which was built to refit the UK's Trident nuclear submarines but never used after Rosyth lost the £5 billion contract to English rival Devonport in 1993.
Limekilns residents have said they would like to see better use made of the redundant site and would support development proposals that provided more sustainable jobs, did not damage the surrounding environment and was not a major source of noise, especially night-time noise.
The JAG reckons the terminal will see erosion of the coastline, will compromise important wildlife habitats and could threaten the viability of the freight ferry service from Rosyth to Europe. Its members also believe only around 50 jobs will be created, much less than the 197 claimed by Babcock, because modern container terminals are largely automated, and suggest the demand for such a project is not there due to the proximity of Grangemouth.
No one from Babcock was available for comment over the weekend but a spokesman recently urged the community to get behind the "incredibly exciting project," which the company believes will "deliver a significant boost to the local economy, both in terms of jobs, facilities and infrastructure" at Rosyth.
"This project has the potential to turn Rosyth into a thriving port that will provide access for businesses across Scotland to international markets in Europe and across the world," the spokesman said.
The public inquiry process is due to open in Dunfermline today, with Scotland's chief reporter Lindsey Nicoll in charge alongside two other reporters.