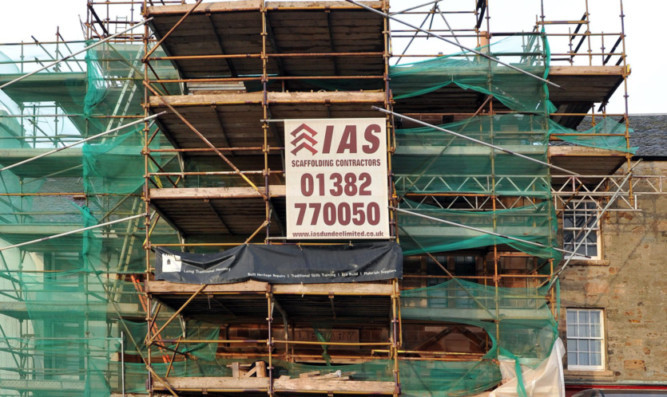 THE FIRST phase of the refurbishment of Anstruther's Murray Library is almost complete.
In order to carry out extensive and delicate restoration work, the Shore Road building has been covered in scaffolding for many months.
This has allowed skilled stonemasons to replace 155 stones and set the stone in lime mortar.
On the roof, tiles were assessed then replaced or repaired where necessary.
The weather vane was removed for refurbishment and will be replaced once the roof refurbishment is complete.
Scaffolding will be removed in the next few weeks, revealing the return of the south-facing facade to its former glory.
The second phase of the project will start early in the new year and involves the complete refurbishment of the inside of the main library building and the conversion of the old snooker hall extension to the north of the building.
The entire inside and outside refurbishment should be completed by October, when individual business units will become available for people working in the creative industries.
There will also be holiday accommodation overlooking Anstruther harbour.
By finding a plan for both parts of the building, the trustees tried to generate surplus funds for educational and recreational purposes.
This will allow the community to continue to benefit from the library, as was the founder's intention in 1908.
The Murray Library was established in that year and is now a registered charity.
It was originally set up to provide a library and reading rooms, with educational and recreational facilities for the local community.
These facilities no longer exist as the library has been relocated to Anstruther Town Hall.
In order to renovate the library, sizeable grants were needed.
The renovation of the Murray Library is one of the key projects in Fife Council's Anstruther Townscape Heritage Initiative and conservation area regeneration scheme.
It has been funded by the Heritage Lottery Fund and Historic Scotland, with cash also coming from Fife Council and the European Regional Development Fund.
leclark@thecourier.co.uk.