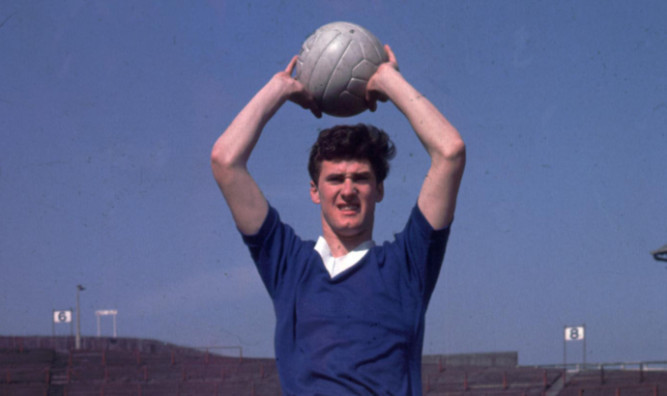 To mark the 15th anniversary of Fife-born football legend Jim Baxter's death, his former Black Watch drill instructor at Perth spills the beans to MICHAEL ALEXANDER.
Jim Baxter knew how to shoot in more ways than one, according to an instructor who was in charge of the footballer's basic training during the early days of his National Service.
The west Fife-born Scotland legend served two years in the Black Watch from 1961, despite being a household name playing for Rangers.
And retired Sergeant Jim Beedie, who was a corporal at the time, has revealed that Baxter was as good a shot with a rifle as he was with a football.
Yet the retired soldier laughs when he thinks back to another side of the legend.
"He was an awfully lazy man," Sgt Beedie told The Courier.
"Being as fit as he was, if he got the chance of two minutes lying on his back then he would bound up the stairs and would take the time.
"He was fortunate Rangers always picked him up on Friday afternoons and brought him back on Sunday afternoons after the game! A big white Jaguar used to come for him."
Sgt Beedie, now 76, of Blairgowrie, put Baxter through his first 10 weeks of army training at Queen's Barracks in Perth.
It was his job to teach him everything about life as a soldier from drill to shooting to cleaning his gun. And he was good at following orders.
But Sgt Beedie, whose family followed a strong Black Watch tradition, remembers having to have a word with Baxter after their first encounter.
Sgt Beedie recalled: "One of the things that sticks in the back of my mind was when the intake of recruits, including Baxter, arrived at the Queen's Barracks.
"The new intakes always got their haircut. He was sent to the barbers like the rest of them, to get a short back and sides. But when he came back I said 'I thought I sent you for a haircut?'. He thought that because he was Jim Baxter he could tell the barber how much to take off. But I had to tell him to go back because it was not short enough. He had just wanted a trim up around the ears!"
Sgt Beedie only knew Baxter for 10 weeks. In his nine years as a regular soldier, Beedie was posted to Cyprus and Germany. But the footballer certainly left his mark in the relatively short time their paths crossed.
Born in Hill of Beath in 1939, Baxter was a miner before he made his Raith Rovers debut in 1957, making 62 appearances for the Kirkcaldy club before leaving for Rangers three years later for what was a Scottish record fee of £17,500.
After basic training National Service soldiers would usually move on for advanced training with the battalion. And Baxter did go on to finish his training at Stirling Castle after the Perth barracks closed.
But because he was a footballer playing for Rangers and Scotland, an arrangement had been made between the club and the army meaning he was kept in the depot and not sent overseas.
Sgt Beedie, himself a Rangers fan, played football at a 'kick-a-bout' level. But he always thought Baxter's talents were wasted in those army depot games because he was such a clever footballer.
"He was way above the standard of play of the average soldier and used to really stand out, " he recalled.
"He was a regular soldier when it came down to it. But he was kept at a certain level so that he could still play for Rangers. He was ahead of the majority of the depot when it came to fitness and found his drill and endurance works easy."
Sgt Beedie said Baxter was well liked by the other soldiers. There was a lot of 'kidology' from supporters of other teams, as you might expect.
"He was a right story teller as well, "he added. "He always had a crowd around him in the NAFFI when they were having drinks. He was a bit of a boy like!
"But he certainly didn't think he was above everyone else. He was a good enough soldier. He did his bit."
After five years at Ibrox, Baxter's career would later see him enjoy spells at both Sunderland and Nottingham Forest, as well as a short stint playing in Canada.
He retired in 1970 after a final season back at Rangers.
Despite a highly successful club career, the left-footed winger is probably best known for his showboating at Wembley against world champions England in 1967, using his ball juggling skills to taunt the Auld Enemy.
But despite his natural talent, over indulgence off the field meant that his career was effectively over by the age of 30.
He died of pancreatic cancer on April 14 2001, age 61, and is immortalised in a statue in his home town.
Sgt Beedie, who ran Blairgowrie-based refrigerated transport company 4JA after the army, was saddened to hear of Baxter's passing.
But he feels honoured to have played a small part in the life of one of Scotland's greatest football icons.