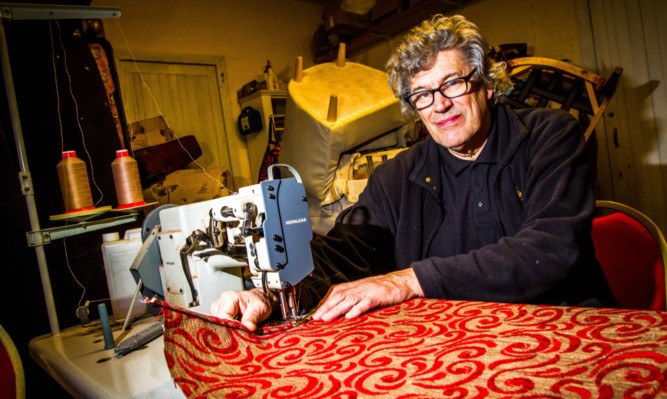 His job goes against the grain of the throw-away culture of 21st century living.
Just about everything now-a-days seems to be disposable, everything is replaceable and if something is worn or tired it should be thrown away and a new one purchased in its place.
However, Trevor Hawkins enjoys the unique and highly skilled job of doing exactly the opposite as the in-house upholsterer for Pitlochry's Atholl Palace Hotel.
Trevor joined the four star hotel around 13 years ago following many years learning and specialising in the quickly-diminishing trade of traditional upholstering in London.
He was tasked with ensuring every item of soft furnishings in the grand hotel lived up to its esteemed reputation.
Trevor has hand-made every curtain, cushion, sofa covering and bed throw in the 116 room hotel ensuring each and every guest, whether it be in their bedroom or in the public areas, enjoys the luxury and traditional grandeur of the Victorian treasure.
He says: "I have always enjoyed a love for working with my hands and transforming something that has seen better days into something worthy of showing off.
"Upholstering using some of the traditional methods is sadly dying out as a skill and our disposable culture today certainly doesn't slow down this process. However, it is a beautiful ability to have and here at Atholl Palace Hotel is something we are immensely proud to maintain.
"The hotel is built on the luxury and glamour of our Victorian origins and to this day, I make curtains, blinds, pelmets and all other soft furnishing that show this wonderful building to its best.
"You can't rush a lot of the work I do because so much of it is done using traditional machinery or even by hand, and it can often be quite physically demanding, especially when working with the long lengths of heavy fabric required for the larger windows in our public areas. Nothing is more satisfying however than using my skills and experience and transforming a piece of furniture into a masterpiece fit for royalty."
Trevor, aged 63, talks fondly of his life in Perthshire with his wife and grown up children.
"My wife is originally from the area, so when the opportunity arose to move back to Scotland with the family and work at Atholl Palace Hotel doing the thing I love the most, I was thrilled.
"Perthshire offers the most fantastic views and backdrop to live in and sometimes I have to pinch myself that the stunning scenery and relaxed rural lifestyle of Pitlochry is right on my doorstep.
"Many hotels, don't invest in having their own in-house upholster. However Atholl Palace has continued to see the benefits of my trade and having been working here for thirteen years, it is so rewarding to walk through the doors and see the impact my work has made in maintaining the interior of the hotel in its traditional splendour.
"Some of the fabric I get to work with is absolutely amazing and I am a real ambassador for the art involved in the craft. It is very important for things to look good but also for things to work and wear well and this has to be a real consideration each and every time I make or design something will it hold its quality and shape for our residents to enjoy?
"Making something with your hands is quite unusual these days but I am very proud of what we have achieved and this is reaffirmed almost every day when I hear people walking through the hotel commenting on something I have made.
"It takes dedication and perseverance to see some of my tasks right through and to ensure they are completed to the exacting standard fit for the Atholl Palace, but my job and the fruits of my labour have helped to make this Pitlochry gem a world-wide destination that should not be missed."