Preparing for an 81-mile cycle race through Highland Perthshire whilst working 100 miles north east of Shetland on a North Sea oil platform might seem like an uphill struggle.
But Fife oil rig worker Ronnie Kimmel, 59, is taking preparations for the Marie Curie Etape Caledonia cycle race all in his stride as he prepares to pay tribute to his late mother-in-law who died of cancer.
In an interview with The Courier from the Murchison Platform, which is closer to Norway than Scotland, father-of-two Ronnie said: "People have asked why a relatively unfit, overweight guy fast approaching his 60th birthday with very limited cycling experience decided to sign up for an 81-mile cycle ride through the mountains of Perthshire.
"The answer is simple really: Mary Moodie. Mary was my mother in-law.
"When I first heard about this charity ride and looked into it online about five months ago, Mary, from Methil, was bravely battling cancer. She was being cared for with incredible compassion by Marie Curie nurses. I signed up almost immediately as I was determined to help in some small way as thanks for the wonderful care that Mary was receiving. Sadly, Mary lost her battle in November. She was just 63. This made me even more determined to do this ride in memory of her."
Married to Christine, Ronnie, a former DC Thomson artist who worked as a paralegal in Leven for 24 years, retrained for life offshore after cutbacks in the legal industry.
Working 12-hour shifts on a three-week-on, three-week-off basis has made training challenging whilst offshore. A bad bout of tendonitis in both knees – showing off in a gym on a leg press machine without warming up properly has also had its consequences!
But now fully recovered, Ronnie has realised he needs to "put in the miles" and ironically he is about to have more time on his hands as one of many rig workers made redundant due to the relative decline in oil prices.
He added: "I had owned a road bike for about three years but had done very few rides other than the occasional 10 or 12-mile trip.
"When I get home next week from the oil rig, I'm going to start doing some steady and regular distance work on the bike.
"Hopefully in May, on completion of the Etape Caledonia, I can enjoy a bit of both and raise a glass of my favourite single malt to Mary."
You can back Ronnie's efforts at www.justgiving.com/RonnieKimmelThe Courier is the official media partner for Etape Caledonia 2016, which takes place on May 8. For more information, visit etapecaledonia.co.uk.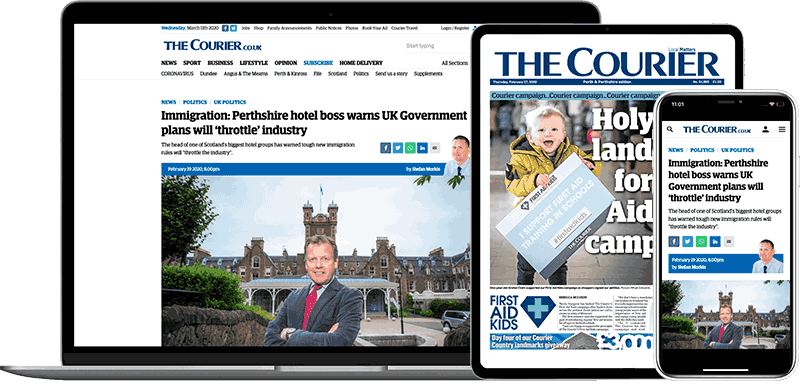 Help support quality local journalism … become a digital subscriber to The Courier
For as little as £5.99 a month you can access all of our content, including Premium articles.
Subscribe