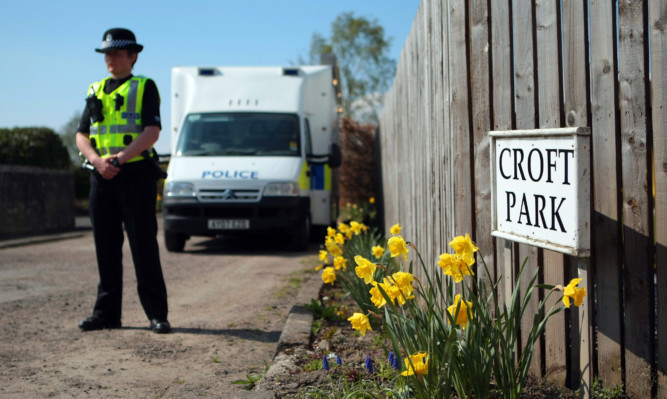 A pizza chef accused of murder told cops his alleged victim was "like a father" to him, a jury's been told.
Nikola Zhulev described Perthshire jeweller Alan Gardner as "my very close friend" and said Mr Gardner had helped him a lot, the High Court at Livingston heard.
Zhulev, 30, made the statements during a police interview after he was detained on suspicion of stealing Mr Gardner's Toyota 4×4.
He claimed Mr Gardner had sold him the car earlier on Monday April 20, four days before the freelance jeweller's body was found "cocooned" in a duvet with his ankles bound with tape in his bungalow at Croft Park, Balbeggie, last April.
He told Detective Sergeant Brian Ferry that he'd received a message from a friend the day before on Facebook saying Mr Gardner was dead.
Zhulev claimed he last met Mr Gardner on Tuesday April 21 when he took a McDonald's takeaway meal to the dead man's home in Croft Foot, Balbeggie.
However, the jury was shown a McDonalds receipt found by police during a search of the Toyota which was dated Monday April 20.
Zhulev denied trying to sell the blue Rav4 to drug dealer Mark Griffin shortly before police swooped on his rented bedsit in South Street, Perth, and found him lying unconscious on the floor.
However, Mr Griffin, 34, gave evidence that Zhulev had first offered him the vehicle for £750 before dropping the price to £350 or so on a subsequent occasion.
The self-confessed drug dealer said Zhulev was a heroin addict who had regularly bought drugs from him for cash and had "pledged" two gold rings in return for drugs.
He said: "Nico had given me them as collateral for heroin, like he didn't have the money.
"He gave me them in place until he could give me the money and get the jewellery back."
Mr Griffin said Zhulev had also tried to sell him camera equipment and had twice turned up with hundreds of pounds in cash in the week before Mr Gardner's death.
"It was a hundred and odd pounds he spent at one point," he said.
"He came up at another point with two hundred and odds in cash. Big wads."
Mr Griffin went on to claim Zhulev also got Diazepam from a source in his native Bulgaria and was "possibly" selling both drugs on for profit.
He said he didn't know where the accused was getting his money from.
"I asked him at one stage. He wouldn't tell me," he said.
Mr Griffin then revealed that the accused had given him a lift in the blue Toyota and had told him the car was in his name.
He told the jury that the day Zhulev was detained he had seen the police coming out of a private road with the Toyota on the back of a Lorry.
He said: "I texted Nico, saying: 'Someone taking our car'.
"I'd already arranged to buy the car off him. "
Jennifer Anderson, 35, a forensic scientist with Police Scotland, told the court she examined several items for DNA but found no samples which matched the DNA of the accused.
She said she first examined layers of clear tape found on Mr Gardner's legs for genetic material.
She added: "We swabbed the sticky side of the tape to try and recover any cellular material adhering to that side.
"The swabs we analysed and DNA profile obtained matched the DNA profile of Alan Gardner.
"The sticky side of the manufacturers tab was then swabbed, the end tab of the tape.
"If that had been used at the beginning of a roll that would have been we here somebody would need to have touched it to unravel the tape.
"A low level partial mixed DNA profile of at least two contributors was obtained which in our opinion was unsuitable for comparison purposes.
"It means there was more than one person contributing, it was partial so it was incomplete and it was at a low level, so of poor quality."
An area under the tape binding Mr Gardner's legs and an area around his ankles were also swabbed.
In each case the DNA profile obtained matched the DNA profile of Alan Gardner.
However, minor DNA types were also obtained from touch tape samples from underneath the tape on the deceased's ankles.
Mrs Anderson said: "In our opinion these minor DNA types were insufficient for comparison purposes. There was low level of DNA there.
"The remaining DNA extract from that sample was submitted to SPA Forensic Services, Glasgow, for analysis using a technique known as Globafiler DNA profiling. It's more sensitive and it looks at more areas of the DNA."
Other scientists had carried out that analysis, she said.
Finally, she said, Mr Gardner's DNA had been found on base of the 1.5 kilogram frying pan believed to have been used to hit him on the head causing a fatal brain injury.
She said: "The full and partial DNA profiles obtained matched the corresponding DNA types in the DNA profile of Alan Gardner. We checked handles of the pan but there was nothing found that was suitable for comparison."
The trial continues.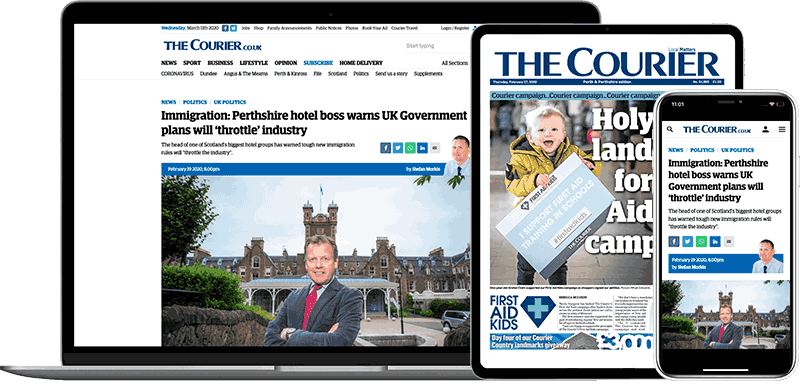 Help support quality local journalism … become a digital subscriber to The Courier
For as little as £5.99 a month you can access all of our content, including Premium articles.
Subscribe