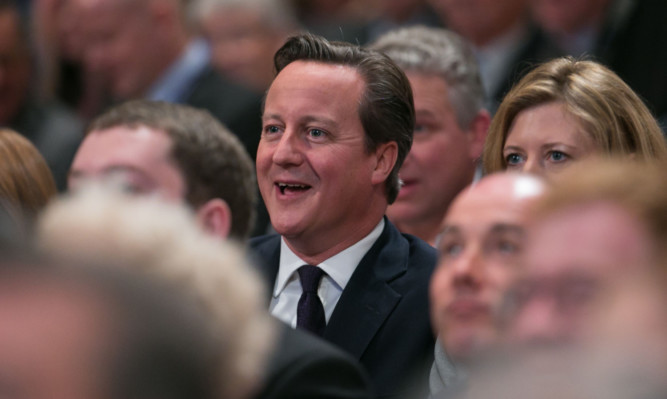 David Cameron has declared the Conservatives were ready to start winning seats in Scotland starting with Perthshire and Fife.
The Prime Minister told a full capacity event at the party's conference in Birmingham the independence referendum had opened the door for electoral success north of the border.
Addressing a Scottish reception, he said the number of people engaged through campaigning ahead of this month's vote had provided a solid base to win seats at Westminster in next year's general election, despite the party having just one member north of the border.
Both Perth and North Perthshire, held by the SNP's Pete Wishart, and North East Fife, which will be vacated by the Liberal Democrats' Sir Menzies Campbell, were selected by the Tories as "open primaries", an expensive selection process earmarking the seats as targets.
Mr Cameron said: "I think we have a huge political opportunity here. We have now got a database not just of Conservative supporters but of Friends of the Union who look to us to defend our United Kingdom.
"We have got people who have been hardened in the battle on the streets and campaigning and we have got some targets in our sights.
"I think some of those seats, whether in the Lowlands of Scotland, whether in the Highlands of Scotland, whether in Fife, whether Argyll, whether in Aberdeenshire, whether in Perthshire…we have got thepeople, we have got the message, we have got the leader, now I think we can really turn the next 200 days into the opportunity to deliver more Conservative seats in the Westminster parliament for Scotland."
The Prime Minister also admitted allowed himself to "gloat" over the decision to hold a single question referendum on independence when many had criticised him for not including so-called "devo max" on the ballot paper.
He once again pledged to ensure further devolution quickly makes its way to Holyrood and singled out Scottish party leader Ruth Davison as being an "absolute star" of the campaign.
Mr Cameron's speech came just hours before Ms Davidson will tell another fringe event today the Tories have "found our voice and people across Scotland have noticed".
Last night, Mr Wishart seemed unperturbed by the targeting of his seat. He said: "They say that every election. Last time I trebled my majority over them."
Meanwhile, local government minister Eric Pickles told delegates the time has come for English votes on English laws because "power without responsibility never ends well".
He said: "In the mother of parliaments, we can't have platinum-card wielding Scottish MPs who can vote for measures in English constituencies, but not in their own Scottish seats."
At a fringe event, self-titled "Blue Labour" peer, Lord Glasman accused both his party and the Conservatives of using the constitution for "immediateself-interest".
He also claimed major devolution would make it almost impossible for another Scot to occupy Downing Street after Gordon Brown was voted out in 2010 and branded the Better Together campaign "nasty".