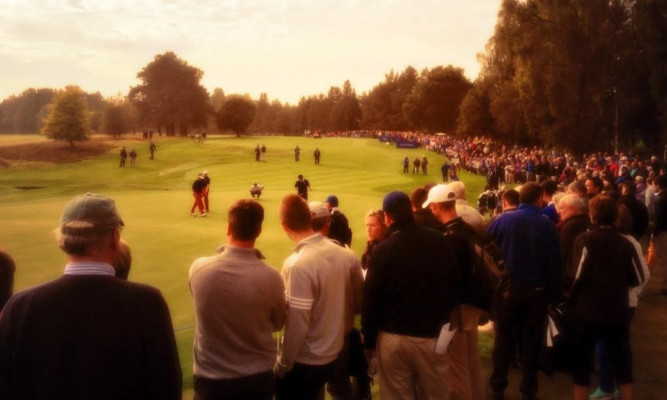 Thousands of golf fans are getting an early taste of Ryder Cup fever at Blairgowrie.
The Junior Ryder Cup got under way at the town's course on Monday, with local champion Bradley Neil a firm favourite with fans.
Hundreds of people waited until the Scottish Amateur Open winner teed off at 1.45pm before following his four-ball game.
The competition continues today, with the full Ryder Cup competition opening at Gleneagles on Friday.
Organisers said they were delighted with the higher-than-expected fan turnout.
Fredrik Lindgren, director of the Junior Ryder Cup, said: "Today we have 1,500 children. In addition we have over 1,500 adult spectators we are very, very happy with the turnout.
https://youtube.com/watch?v=y0fIpX7AE2A%3Frel%3D0
"We have worked very closely with the Scottish Government, VisitScotland, Blairgowrie golf club and Perth and Kinross Council to drive up interest in the Junior Ryder Cup.
"We prepared for big numbers but it's an imprecise science. It's good to see such good crowds."
He said a change of venue had benefited visitor numbers.
"It's the first time it's been on at the same time and in the same place as the Ryder Cup," he said.
"Previously it's been on at the same dates at the main tournament but held at the next Ryder Cup Europe venue.
"Last year we were at Gleneagles but instead of going to Paris, where they are holding the 2018 competition, we have stayed in Scotland. We agreed with our French partners that it would be a step forward and it works."
Dougie Cleeton, the managing secretary of Blairgowrie Golf Club, said: "We prepared for 2 to 3,000 visitors per day and we have certainly met expectations, if not exceeded them."
Children were invited to Blairgowrie Golf Club to take part in activities such as putting and mini driving ranges.
They also met several of the players from both the European and American teams, and were delighted to receive autographs.
Ruaraidh McCulloch, 10, from Moncreiffe Primary, said: "I liked watching the players take their shots and I liked taking part in the activities."