 A Perth drug dealer was caught with £3,000 of cannabis outside his home after walking past police officers smelling of the drug.
Ronald McEwan, Pomarium Flats, Pomarium Street, was jailed for nine months at Perth Sheriff Court on Wednesday.
The 49-year-old admitted having 182g of cannabis, which was said to have a potential maximum value of £3,000, when he was arrested by officers as he left his flat.
Depute fiscal Bill Kermode told the court: "That is assessed as dealer quantity in the circumstances."
Sheriff Lindsay Foulis heard that police officers were on duty in plain clothes and had stopped to talk to a council employee outside the accused's home address.
Mr Kermode said: "McEwan and two others walked out of the tower block where the accused was known to live.
"As they walked past there was a very distinctive smell of cannabis coming from them."
The police officers saw the accused and his two associates attempting to get into a waiting taxi.
When questioned by officers McEwan produced herbal cannabis and admitted it was his. When his two associates were found to have quantities of the drug also, McEwan said the cannabis belonged to him and they had nothing to do with it.
McEwan told officers: "It all belongs to me, it's all my cannabis. It was too bulky to put in my pockets. I'm just the courier."
The accused was also found to have £135 in his sock, which he claimed was his giro money. His two associates had not guilty pleas accepted by the crown.
McEwan's solicitor said he was getting into the taxi to go to a Letham address arranged by his associates.
She said: "This wasn't sophisticated at all. All three came out of the block of flats stinking of cannabis."
McEwan admitted being concerned in the supply of cannabis on February 18.
He also pleaded guilty to, on December 1 2015 at the same address, being in possession of 20.2g of cannabis that was said to be worth £300.
Sheriff Lindsay Foulis stated that he could see no other appropriate punishment other than custody.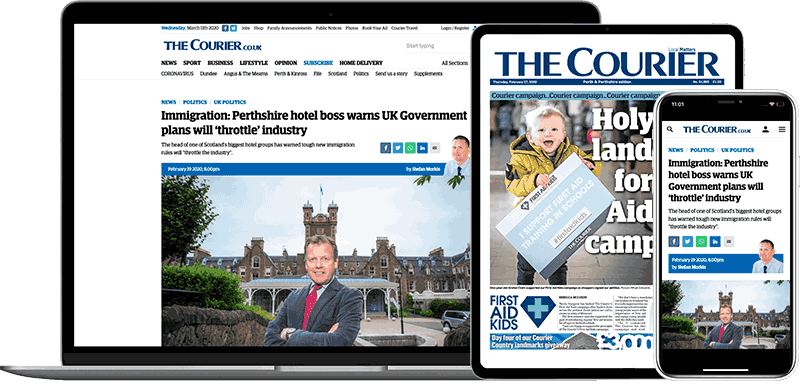 Help support quality local journalism … become a digital subscriber to The Courier
For as little as £5.99 a month you can access all of our content, including Premium articles.
Subscribe