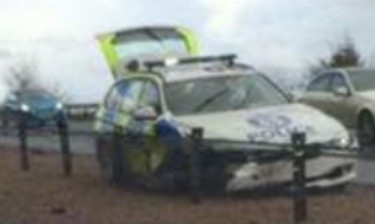 A burst of heavy rain and hail caused a brief period of chaos on the A9 south of Perth on Sunday evening.
A number of cars slipped from the carriageway in separate incidents on or near the Cairnie Braes, including one police vehicle that ended up damaged in the central reservation.
Police Scotland said no one had been injured in the incidents, which a spokesman said had been caused by "torrential rain".
Motorists were asked to take care as damaged vehicles were removed from the scene.
Police Scotland also had to deal with the aftermath of an accident on the Kingsway in Dundee in which two cars collided.
The incident, at the junction with Forfar Road, caused some congestion for a time and left a fuel spill on the carriageway.
Sand was put down on the road to deal with the spillage.
No one was injured.