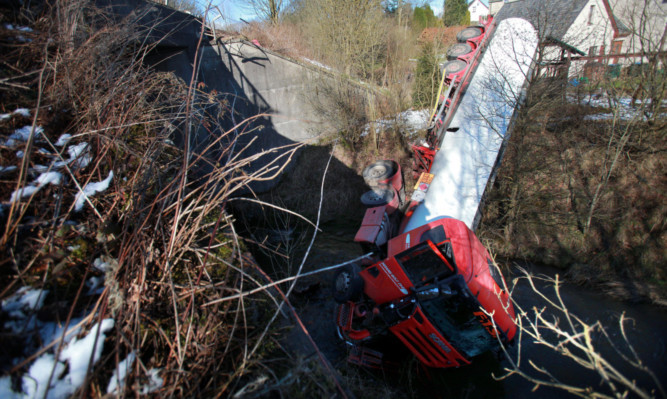 The driver of a tanker that plummeted 40ft from a Powmill bridge was rescued by his very own Florence Nightingale.
Ken McNicol says he will never forget the kindness of the Powmill nurse who came to his rescue as he clambered from the wreckage of the accident.
Driving in the pitch black at 3.45am last Wednesday, Ken lost control of his vehicle on an icy stretch of the A977 as it passed through the village, near Kinross.
He recalled: "As soon as I went to steer into the corner at the top of the hill I knew there was something wrong.
"I just felt the tanker going sideways and the back end of the unit lifting up. I tried turning left and right but nothing worked.
"The next thing I knew I was heading for the bridge. I thought the bridge was going to stop me as I wasn't going that hard but I just went right through the railings and over the side. I thought I was dead."
The tanker plummeted down an embankment and into a garden below, narrowly missing crushing a slide and swing.
"I think I maybe blacked out for a couple of seconds," he said.
"I got out of the cab myself but it was just the adrenalin. I dragged myself up through the nettles and bushes and started shouting for help.
"It was pitch black and freezing. All I could see was a lady with a torch and someone shouting, 'I'm here, I'm here'."
Nurse Julia Hankinson Glover, her husband Euan and daughter Charlotte, who live at neighbouring Powmill Farmhouse, were woken by the loud crash and came to his rescue.
Mr McNicol said: "The doctor said my body went into shock because of the cold and I was soaking wet.
"Julia and her husband and daughter were all there.
"They got me covers, took my wet clothes and shoes off.
"They were cuddling into me, trying to keep me warm and trying to keep me awake."
Mr McNicol suffered stitches in his head, has three cracked ribs and is on morphine that is preventing him from driving to say thank-you to Julia and her family in person.
He said: "I want to say thank you. My family can't thank her enough. I will never be able to pay her back for what she's done.
"I'm planning to go up and meet her when I am able to travel again."