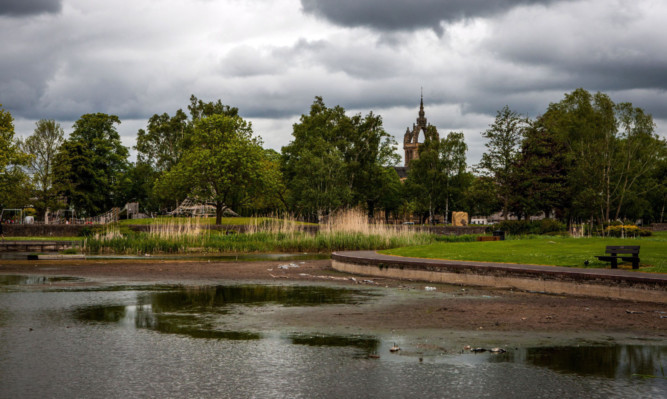 A Perth pond that should be a safe haven for wildlife has become a dangerous eyesore, it has been claimed.
David Webber from Perth said the South Inch pond which was converted from a boating pond to a wildlife pond some years ago is in dire need of attention.
"The pond has been completely neglected and now resembles something you would expect to see in post-industrial waste ground," he said.
"A swan is sitting on a nest that should be surrounded by water and ducks are ankle-high in mud."
His concern is that the wildlife is exposed to the risk of their eggs being stolen due to the low water level and he claims dog walkers on the South Inch had been looking out for the birds.
A council spokesperson said work on tackling the issue has just started.
"Perth and Kinross Council has started works, which will last approximately 48 hours, to the inlet to the pond on the South Inch."
"Due to rainfall levels and the inlet pipe being blocked following recent, essential flood alleviation works, the water levels are very low.
"Through experience, and taking expert advice, we know, in the short term, this will not affect wildlife, as there is some water still present. The council will continue to monitor the situation on an ongoing basis. The planting has been designed to withstand varying water levels and the lack of water should not have a permanent detrimental effect.
"The council can confirm that there is no effective and safe manual method of filling up the pond. Again, through experience and expert advice, it is better for the natural balance of the eco-system for the water to come from the burn rather than by adding chlorinated, treated water. The plants have been specifically selected to adapt to wet or dry conditions and they can tolerate low levels of water in the pond.
"In addition to this, the council has put up signage requesting that the public do not feed the ducks bread, as this can attract vermin and cause algae from duck waste.
"The council are currently reviewing the contents of the signage around the pond to see if it can be improved, to give comprehensive information on various aspects of the pond, including pond habitats and wildlife.
"With regard to the swans, as they are already nesting close to the footpath within the reed bed, the lack of water should not have any additional adverse effects on the nest."