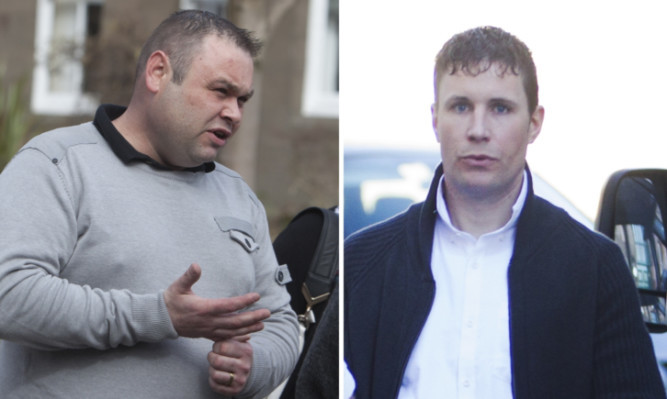 Injuries sustained by an Angus man during an alleged abduction and robbery were "highly unlikely" to have been caused by a prolonged assault, a trial has heard.
Perth men Robert Selby and William Moore appeared at Forfar Sheriff Court accused of attacking Jonathan Gourley at his Airlie home and forcing him to draw £1,500 from a Forfar bank against his will.
Selby, 34, and Moore, 33, deny detaining Mr Gourley, robbing him, and assaulting him to his severe injury, permanent disfigurement, permanent impairment and to the danger of his life.
Jurors previously heard evidence from Mr Gourley, 42, that he took "around 80 punches" to the temple from Moore before the pair drove him to the Clydesdale Bank on Castle Street on October 22.
The trial heard evidence from Mr Gourley's friend and employee David Hamilton, 52, a joiner.
He said he was at Cantsmill Farm Cottage, near Kirriemuir, when the two accused visited and told his friend he was to go to the bank to draw out money, which he initially refused to do.
Mr Hamilton said Moore began punching Mr Gourley "well over 20 times" before he agreed to be driven to his branch.
He was asked by Selby's defence agent Stephen Laverty why he did not call for help when he followed Selby's works van to Forfar in his own car.
Mr Hamilton said he was "afraid for what they might do to John" if he drew attention to himself.
The court also heard evidence from Dr Maria Cresta, 27, a dentist at the maxillofacial unit at Ninewells Hospital.
Dr Cresta said Gourley, referred to the unit on October 23, was "intoxicated" but able to answer her questions. In her opinion his injuries would require a "significant blunt force" to the eye socket. His eye was fitted with a titanium mesh and two 5mm screws.
Dr Rudy Crawford, 66, a recently retired consultant from Glasgow Royal Infirmary, gave expert evidence for the defence.
He said it was "highly unlikely" that Mr Gourley's injury would have resulted from a sustained assault, but was a "blowout fracture" normally caused by a "severe blunt force" directly to the eye socket.
"It could happen as a result of a fall or the result of a contact with a blunt object. It could be a punch," he said.
When asked what would happen if a person experienced multiple blows to the temple, as in evidence given by Mr Gourley, Dr Crawford said this would likely cause a serious fracture and arterial damage described in the Bible passage of David against Goliath. This was not evident.
The trial, in front of a jury of eight women and seven men, continues.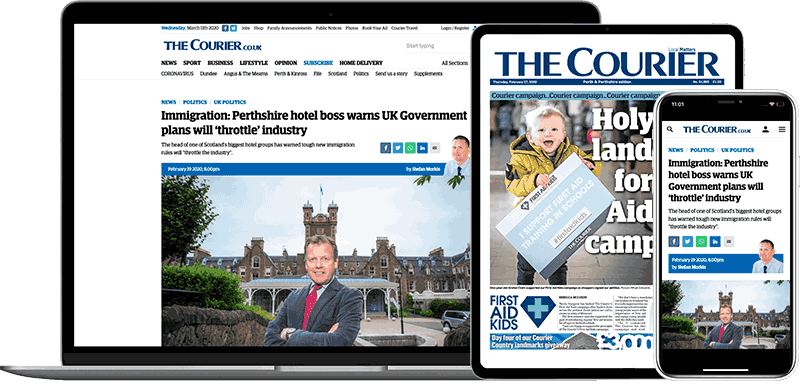 Help support quality local journalism … become a digital subscriber to The Courier
For as little as £5.99 a month you can access all of our content, including Premium articles.
Subscribe