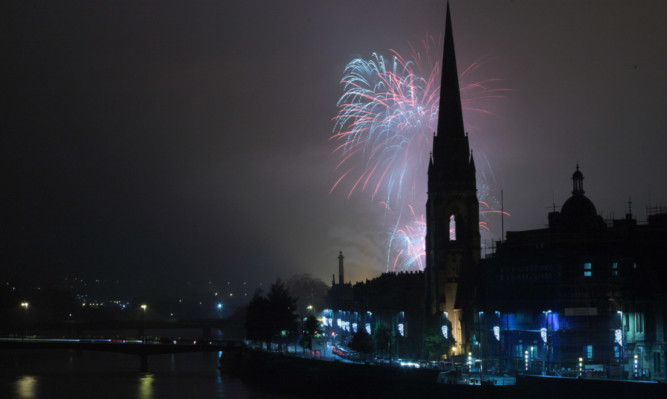 Perth's Winter Festival extravaganza launched with a bang last night as hundreds stepped out to enjoy the city's annual bonfire and fireworks show.
After a day of downpours and thick fog, the weather cleared up in time for spectacular displays across the region.
Perth's well-attended event was organised by the Perth Strathearn 200 Round Table group, using a Guy put together by pupils from the city's Fairview School.
Provost Liz Grant joined crowds at Lesser South Inch and started the countdown for the colourful pyro- technics show, which was backed by dramatic music.
Elsewhere in Perthshire, groups gathered for bonfire displays at Crieff and Comrie.
Last night's celebrations helped kick off this year's Winter Festival, which will run until the Chinese New Year in February.
The packed line-up includes a chocolate festival, a Santa fun-run and a seasonal visit from the Coca-Cola truck.
The centrepiece of the festivities will be the Christmas lights switch-on ceremony on Saturday, November 21.
Live music on the night will come from 1980s icon Billy Ocean and retro rockers Showaddywaddy, as well as local bands. However, the name of the main act remains under-wraps.
Councillor John Kellas said: "The Winter Festival is back with a bang and is bigger than ever.
"We believe this year's programme will attract even more visitors to Perth City, including many who will want to stay over and will rival anything on offer elsewhere in Scotland."
He added: "Building up the attraction and reputation of the City of Perth Winter Festival is so important because it allows us to not only showcase all that is great about Perth, but by bringing so many visitors and encouraging them to stay over it provides a massive boost for local businesses and services."
Pictures by Phil Hannah