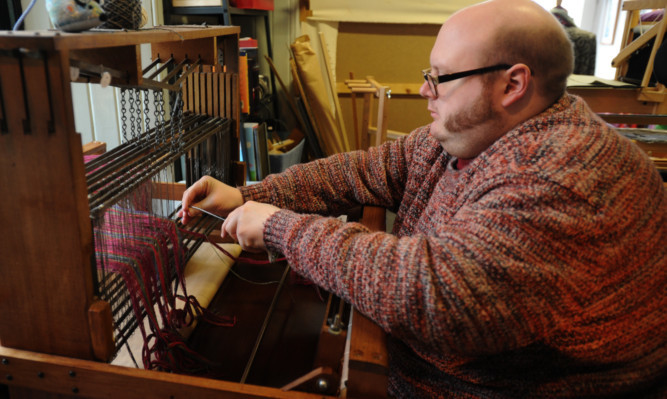 Master craftsman and weaver Ashleigh Slater has not long finished doing a stint teaching primary school kids the finer art of handmade weaving and tartan when The Courier catches up with him at his workshop in Blairgowrie.
He's been telling the Meigle youngsters about his use of old looms, his refusal to upgrade to machine-operated power looms, and his love for Tweed and high-end fabric.
But before long he's back behind the loom weaving Berries and Cherries scarves, which feature a new tartan he has created and registered alongside Melanie Thomson of Thomas Thomson (Blairgowrie) Ltd. This tartan is inspired by the wealth of delicious berries and cherries grown around the Perthshire town.
It's this blend of giving something back to the community whilst pursuing his creative passion that inspires the 35-year-old. It's not been an easy ride for the Duncan of Jordanstone College of Art and Design graduate who, as a result of cerebral palsy, has been using a wheelchair since birth.
But the Derby-born weaver does not let his 'disability' define him and it certainly doesn't stop him getting around. "I'm disabled, if we are allowed to use that word now-a-days, "he laughs. "I'm in a wheelchair. But that doesn't stop me going out. In many ways weaving is a bit like my occupational therapy. It keeps me busy and it gets me out of the door each morning. It's something I 'can do' as opposed to being defined as someone who can't do things. So I love it for that."
Raised in Derbyshire, he studied art at college and was always interested in the arts but never gained any professional qualification. Moving to Carlisle, he worked as a voluntary art co-ordinator for a disabled group where he helped people to paint and use textiles. But it was only when he moved to Blairgowrie with his mum in 2006 that he was inspired to start up a small cottage industry inspired by his first weaving lesson and the drive to go back to university.
He explains: "My mum wanted to go somewhere to retire and I wanted to live in the country having always been in a big town. We had no connection with Blairgowrie but moved there with blind faith and hope. It's been great!" After graduating from Duncan of Jordanstone College of Art and Design in 2012 with a BDes (Hons) in Textile Design specialising in weaving, he was invited to join the Nine Incorporated Trades of Dundee as a Master Weaver.
In addition, he was offered a small creative space and the opportunity to start his weaving venture in the backroom of "Fresh & Vintage", a shop in Blairgowrie. A year later, an unexpected change in circumstances enabled Ashleigh to expand and open his working studio 'warpweftweave' in Leslie Street. He has since been featured in Homes & Interiors magazine and has pioneered his very own brand of tweed "Blair-Tweel" – bespoke textiles created and designed to meet the growing market for locally sourced, handmade goods.
Sourcing the finest Shetland and Harris wools, he is driven to create hand woven cloth on looms that still require manual and mental dexterity using a principle of slow textiles, and recreating the skills of pre-industrial woven textiles.
Since 2014 warpweftweave studio still remains he merged to create Artificerm, a fusion of fine art and fine tweed with Ashley Paul Jennings. He adds: "Artificer is an embodiment going back to the roots of traditionalism of the arts and crafts. This is where fine art and tweed combine. Firstly, and foremost we are 'working studios' you can visit and browse. As a unique feature we are a little bit 'quirky' intermingled between the looms you can purchase wonderful paintings, and tweeds among other crafts form varying artists and crafters."
Ashleigh also supports local arts initiatives such as the Strathmore Arts Festival stART.
He added: "I weave a lot of scarves, cushions, bed runners and table runners. I also teach one-one with people wanting to learn this wonderful craft. I also do work for the fashion designer Fatima Mahmood of – Ala Mairi in Edinburgh.
"It's great to be involved in such a really old craft and great to be working in such a way that I am my own boss."
www.warpweftweavestudio.co.uk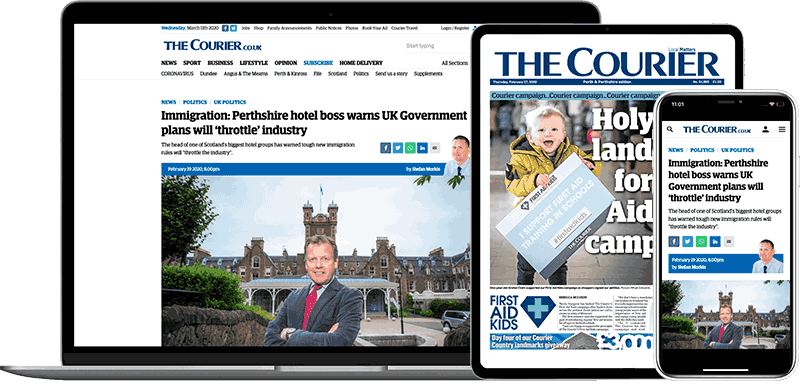 Help support quality local journalism … become a digital subscriber to The Courier
For as little as £5.99 a month you can access all of our content, including Premium articles.
Subscribe