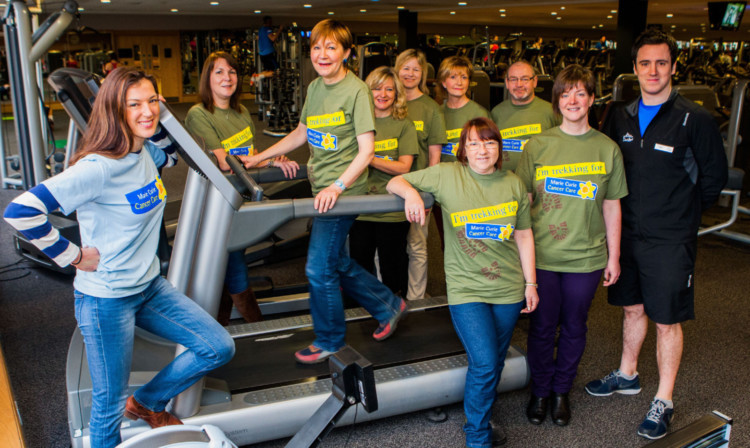 Courier readers have answered an appeal to raise thousands of pounds for one of Scotland's leading charities.
A dozen men and women from Angus, Dundee, Fife and Perthshire have signed up with Marie Curie Cancer Care to walk the West Highland Way in May.
The charity's inaugural assault on the famous 96-mile route from Milngavie to Fort William will raise a minimum of £10,000 to fund free professional nursing care for terminally ill people across Courier Country this summer.
In addition, if the pilot project proves successful, it is likely to lead to a much larger annual event capable of generating tens of thousands of pounds each year for families throughout the whole of the UK.
Petra McMillan, a patron of Marie Curie Cancer Care, praised Courier readers for taking on the iconic Scottish mountain challenge, which will directly buy at least 500 hours of free professional hands-on nursing care for people with any terminal condition including cancer, heart disease and lung disorders.
"Courier readers have always been supportive but this time they're really going the extra mile for us 96 to be exact," she said.
"Having completed the walk myself, I am sure our daring dozen will relish the experience, all the while making a massive difference to local families in need at a crisis point in their lives."
For every family Marie Curie can help on Tayside, another is turned away due to lack of funds.
Research shows when faced with a terminal diagnosis, 63% of people would choose to be at home at the end of life and yet 55% of us die in hospital.
Just £20 allows for one hour of high-quality care for an individual with any terminal diagnosis not just cancer who wants to be at home at the end of life, close to the people and things that make them feel most comfortable.
Making up a large portion of the group are seven men and women from gwenmccreadie.com, a healthy lifestyle slimming club with more than 800 clients throughout Tayside.
Gwen believes taking part in Marie Curie's West Highland Way Challenge will be liberating and empowering for some of her clients who have struggled with weight issues in the past.
"At present at least three people taking part in this challenge will have lost at least five stones in recent months and maybe couldn't walk much more than a few hundred yards comfortably before so this is huge for them," she said.
"I hope that in taking on such an iconic challenge they will realise not only can they do it but that they can do many other things in life they set their minds to."
Adding its support to the charity venture, David Lloyd Leisure welcomed the Marie Curie group to its Monifieth gym and gifted each walker a free seven-day fitness pass to kick-start their new training regime for 2014.
The West Highland Way Challenge takes place between May 19 and 26.
For more information about Marie Curie Cancer Care or to support the charity in this area, please contact Petra McMillan on 07717 810365, email her at petramcmillan@sky.com or visit www.mariecurie.org.uk.