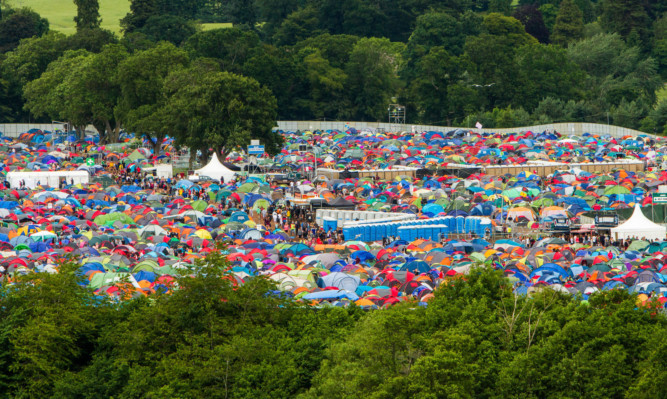 An extra-strong batch of ecstasy could be partly to blame for a crime surge at T in the Park, police have said.
A new report on last summer's festival has revealed a worrying rise in violent offences, including a rape.
There were six serious assaults at the 2015 event, compared to just one each year from 2012 to 2014.
The Police Scotland report, which will go before councillors next week, also shows that weapon possession has climbed from three in 2014 to seven.
And there were 11 incidents of threatening and abusive behaviour, with none reported the year before and three in 2013.
However, the number of drug offences has dropped, with possession charges falling from 301 to 257.
T in the Park's debut year at Strathallan Castle was overshadowed by problems, particularly late-night traffic issues.
Last week The Courier revealed that Perth and Kinross Council has threatened to pull the plug on the event unless organisers DF Concerts can ensure there won't be a repeat of 2015's chaos.
In his report to Perth and Kinross Council's community safety committee, Chief Superintendent Eddie Smith said: "There were six serious assaults in 2015, the highest number of such crimes ever recorded at T in the Park.
"Only one serious assault was recorded in each of the three previous years. All but one serious assault occurred within the campsite area."
He said: "One of the challenges was that of the presence of what was assessed to be a particular type of hallucinogenic ecstasy or MDMA drug, although the impact of this is anecdotal rather than definitively evidenced.
"One particular serious assault appeared to be directly related."
Ch Supt Smith added: "With regard to sexual crime, a rape was recorded occurring in the campsite area. A sexual assault occurred in the village area of the campsite. Both these crimes were detected."
The number of reported thefts dropped by 13% to 118.
The total number of crimes dropped slightly from 480 in 2014 to 475.
A DF Concerts spokeswoman said: "Safety is our highest priority and this type of behaviour is no more welcome at T in the Park than anywhere else.
"We work in close co-operation with the police, emergency services and our security team every year to review procedures with a focus on delivering a secure and enjoyable festival."
She added: "It's also important to note that the vast majority of fans come to the event every year to listen to music and have fun with their friends and are praised for their positive behaviour."