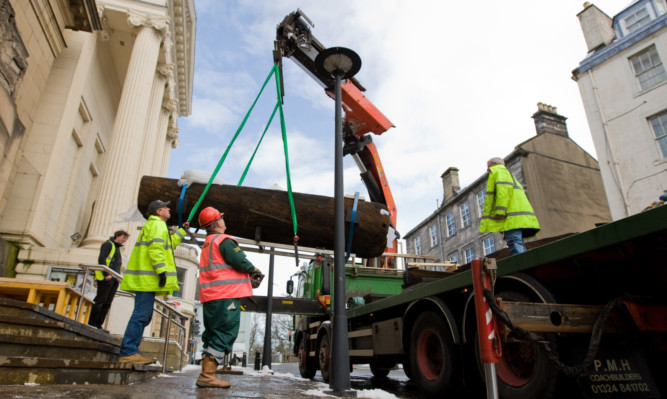 The Carpow log boat hailed as one of the most exciting archaeological discoveries made in Tayside this century has been moved to Glasgow.
The bronze age vessel one of the oldest and best-preserved of its kind in Scotland had spent thousands of years below the mud of the Tay.
Rediscovered and restored, it has spent much of the past year enjoying pride of place within Perth Museum and Art Gallery's main exhibition space, where it was viewed by more than 82,000 people.
Now, however, it is set to slip from view once again as it is transferred to the Glasgow Museums Resource Centre, where it will be on loan for the next five years.
https://youtube.com/watch?v=-KNBe_VrKE0%3Frel%3D0
There, the log boat will be used for further research and will remain accessible to the public by appointment only.
The vessel was painstakingly removed from the museum on Monday just as it had arrived in March 2012, split into three sections, protected from damage and the elements and craned into place on a transporter.
The museum's heritage coordinator, Richard Polley, said: "The Carpow log boat remains part of the museum collections of Perth and Kinross Council.
"It has been on display for a year, but having the bronze age artefact on permanent display at Perth Museum would restrict the use of Gallery One, our major space for our rotating exhibition programme and events.
"We have a close working relationship with Glasgow Museums and the generous offer of storage at their Resource Centre for the next five years allows the log boat to be used for further research and remain accessible to the public."
Mr Polley said a programme of talks and events were being planned around the log boat in partnership with Glasgow Museums.
Perth and Kinross Council is exploring opportunities for permanent display and interpretation of the Carpow log boat after the five-year loan is over.
It was recovered from the Tay in August 2006, having first been discovered in 2001, partially buried in the inter-tidal sands and gravels of Carpow Bank at the head of the estuary.
https://youtube.com/watch?v=kyy1InluHak%3Frel%3D0
The simple water craft is carved from a single tree trunk and is an example of the first known boats in existence.
A radiocarbon date quickly verified that the Carpow boat was fully 3,000 years old, dating to 1130-970 BC and small-scale excavation in 2002 and 2003 established the full length of the boat at around 9m.
The log boat will be replaced in Perth Gallery by a major new exhibition entitled Picture Perthshire, which opens to the public on March 23.