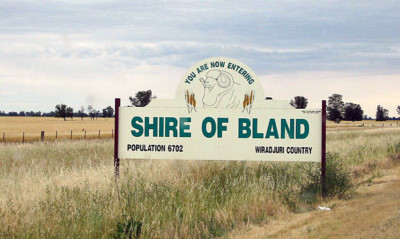 A Bland addition to a Dull and Boring partnership could make for a trio of tedious settlement names.
For years the Shire of Bland in Australia has been the butt of many a joke, but now residents are turning the other cheek.
They hope to turn ridicule into riches and cash in on their unusual name by joining forces with Dull in Perthshire and Boring in Oregon. Local councillor Tony Lord said: "I think over the years we've had our share of fun poked at us.
"Wherever there's a deemed threat or a deemed negative, there's always an opportunity. I think that's where we need to think positively and look ahead at all the opportunities that may occur or that we can generate."
Bland Shire, which encompasses farmland in the Riverina region of New South Wales has a rather interesting history. It is named after William Bland, who was transported as a convict after killing a sailor in a duel in Bombay.
He was later pardoned and became a pillar of colonial life, going on to found the Australian Medical Association.
The bid to welcome Bland as a new member of their soporific sisterhood has been welcomed by Dull resident, Emma Burtles, who played a key role in pushing for the link to Boring after her friend Elizabeth Leighton passed through the town while on a cycling holiday.
"I think it's a terrific idea," she said.
"The whole thing has been good fun and involving Bland would be great because it's brought a lot of humour and smiles to the area."
Mrs Burtles joked that the council may be the only ones not happy with the proposals, as it could mean replacing the sign once again.
She continued: "Some people from Boring are coming over in October, so if Bland want to come along as well that would be lovely.
"For a little place like Dull, this has been great and it has really brought the local community together."
Following their unique pairing last year, which sparked a worldwide media frenzy, Dull and Boring are already capitalising on their mundane names.
In Dull, Perth and Kinross Council gave the green light for an official welcome sign to be installed marking the relationship.
The tiny Highland Perthshire village, which boasts just 84 residents, has become a hotspot for visitors eager to have their photograph taken with the eye-catching notice.
Meanwhile, lawmakers in Oregon agreed to designate August 9 as Boring and Dull day so locals could celebrate their link.
There are also plans for a delegation from the US town to visit Scotland this year.